True Stories
(1986)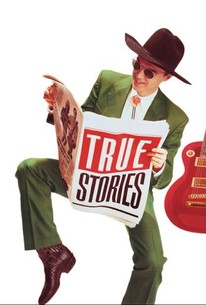 Movie Info
Director David Byrne (of Talking Heads) takes an outside-looking-in glance at Texas and Texans in True Stories. Casting himself as the protagonist/narrator, Byrne adopts what he thinks is "standard" western garb and drives his red convertible into the small town of Virgil. Here he observes the town's preparations for celebrating Texas' sesquicentennial, taking time out to introduce us to several of the local oddballs. Swoosie Kurtz plays Miss Rollings, the Laziest Woman in the World; Alix Elias is The Cute Woman, who decorates her home in the most hideously "sweet" manner imaginable; John Goodman is talent-contest entrant Louis Fyne, who harbors dreams of being a C&W star; Spalding Gray is Earl Culver, a vegetable-obsessed civic leader; Jo Harvey Allen is The Lying Woman; and so it goes. The script by Southerners Byrne, Beth Henley and Steven Tobolowksy strives to avoid subtlety.
Critic Reviews for True Stories
Audience Reviews for True Stories
True Stories is a heartwarming, genuine, sometimes abstract look at the change taking place in Texas (and US in general) during the mid-1980's. David Byrne plays himself (sort of) as the narrator who looks upon the fictional town of Virgil and its odd inhabitants with a sort of child-like wonder as they prepare for their "celebration of specialness" anniversary celebration. Incorporating music from their album of the same name the Talking Heads (Byrne mostly) take us on a wondrously bittersweet adventure that weaves through the extraordinarily ordinary lives of Virgil's town folk. More than just a snapshot of the particular time and place this film captures the essence of American optimism, those intangible dreams and vapid pursuits that we are so fortunate to be able to undertake.
Brett Warren
Super Reviewer
½
A quirky, comic and insightful look at "Americana" through the eyes of one of the musical geniuses of our lifetime, Mr. David Byrne. Sountrack by Talking Heads. What more could you ask for?
Quirky is right! Some of it rings of truth. I liked the songs about watching too much television, corporate religions and the kids in a suburban wasteland. The family dinner table communication rituals were bizarre. There is some nice imagery about American oblivion. I felt empty after watching a society so bent, but was never bored. Michael Moore and Christopher Guest probably drew some inspiration from some of this.
Lafe Fredbjornson
Super Reviewer
True Stories Quotes
There are no approved quotes yet for this movie.