Trouble with the Curve
(2012)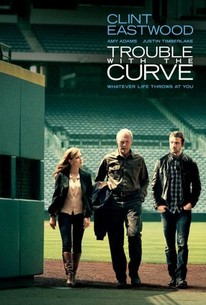 TOMATOMETER
AUDIENCE SCORE
Critic Consensus: Though predictable and somewhat dramatically underwhelming, Trouble with the Curve benefits from Clint Eastwood's grizzled charisma and his easy chemistry with a charming Amy Adams.
Trouble with the Curve Photos
Movie Info
Gus Lobel (Clint Eastwood) has been one of the best scouts in baseball for decades, but, despite his efforts to hide it, age is starting to catch up with him. Nevertheless, Gus-who can tell a pitch just by the crack of the bat-refuses to be benched for what may be the final innings of his career. He may not have a choice. The front office of the Atlanta Braves is starting to question his judgment, especially with the country's hottest batting phenom on deck for the draft. The one person who might be able to help is also the one person Gus would never ask: his daughter, Mickey (Amy Adams), an associate at a high-powered Atlanta law firm whose drive and ambition has put her on the fast track to becoming partner. Against her better judgment, and over Gus's objections, Mickey joins him on his latest scouting trip to North Carolina, jeopardizing her own career to save his. -- (C) Warner Bros.
News & Interviews for Trouble with the Curve
Critic Reviews for Trouble with the Curve
Audience Reviews for Trouble with the Curve
cliche ridden, this feels like a romantic comedy/sports film of the late 80's, something you've seen 100 times. the upside is that its a very entertaining version of the same old thing, so it stands on both feet just fine and provides a very good time at the movies, especially for a date night. this film was all it needed to be to entertain. very solid.
½
Despite his politics, Eastwood is one of my all-time movie heroes. I'm able to separate the man from his art . . . that's not what I mean. I'm able to keep his politics separate from his art. This is a nearly perfect work of art. And kudos to Justin Timberlake.
Lanning : )
Super Reviewer
½
This is once again a film where an aging Clint Eastwood plays an old coot who can't let go of the past ,and fights like hell to keep aging from getting the best of him, This time around he's Gus- a veteran talent scout for the Atlanta Braves whose eyesight is failing him. An upcoming job could be a career ender for him due to his health, but not to worry, his estranged daughter Mickey comes in to reconnect, and help him out, even if it means risking her own job as a lawyer on track to be a partner. And for good measure, we get a budding romance between Mickey and a former pick of Gus's turned rival scout named Johnny. The film is largely predictable, not challenging, and not always subtle, however, when compared to Gran Torino, it's not as heavy handed, but unfortunately not as memorable either. It's still entertaining, heartwarming, and charming, so, even though it's nothing new, it does fulfill a necessary place in this world. What ultimately saves it is the cast. In the lead is Eastwood as Gus, and on deck and in the hole (to keep up the baseball metaphors) are Amy Adams as Mickey and Justin Timberlake as Johnny. There's backed by a supporting team of solid talent that includes John Goodman, Robert Patrick, Matthew Lillard ,and George Wyner. The performances are all pretty solid, and the cast have a lot of natural chemistry with one another. It doesn't hurt that we get a scene with Adams doing a cannonball off a dock into a pond while wearing nothing but her panties and a t-shirt. All in all, the film is well meaning, if nothing all that special. It's probably something I'll forget within a few days, but it's good old fashioned entertainment in the classic sense while its lasts, so give it a go. For the rating I'm torn between 3 and 3.5, so let's call it a B-.
Chris Weber
Super Reviewer
Trouble with the Curve Quotes
There are no approved quotes yet for this movie.