Trouble Man
(1972)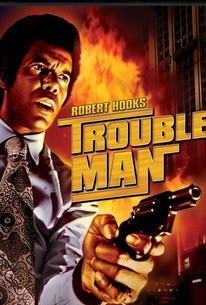 AUDIENCE SCORE
Critic Consensus: No consensus yet.
Movie Info
An inner-city point man is on the run from both the cops and the crooks in this streetwise blaxpolitation drama. T (Robert Hooks) is a combination pool shark, private detective, and all-purpose ghetto fixer who operates out of a billiards parlor in South Central Los Angeles. T has done well for himself -- he drives a fancy new car, wears expensive suits, and lives in an upscale apartment -- but he also looks out for folks on the block, and knows how to tell the good guys from the bad guys on either side of the law. T is approached by Chalky (Paul Winfield) and his partner, Pete (Ralph Waite), who run a floating dice game in the neighborhood. Chalky tells T they've been ripped off by a band of thieves several nights running, and they want him to find out who the masked stick-up men are. T is willing to do the job for the right price, but it turns out Chalky and Pete are trying to take down rival crime kingpin Big (Julius Harris), and when one of Big's underlings turns up dead, T is blamed for the crime by both Big and corrupt police captain Joe Marx (Bill Smithers). Trouble Man also stars Paula Kelly's as T's love interest, and features an original score by Marvin Gaye.
Critic Reviews for Trouble Man
All Critics (3) | Top Critics (1) | Fresh (0) | Rotten (3)

If, like me, you didn't care for Shaft other than as prime example of future camp-trash, you would do well to stear clear of Trouble Man.
Despite some excellent use of Los Angeles locations, Trouble Man is a classic example of what white writers and producers perceive as the black lifestyle.
Audience Reviews for Trouble Man
½
Now this is a badass film! The story ain't the most original, but then again, very few films really are all that original. This is a fun and groovy story about a cxool dude known only as Mr. T who is a detective who can kick ass, get shit done, and still have time to please the ladies. This is a high class blaxploitation film that deserves a lot more attention and recognition. It is, like the best of them, a film that really works as a regular movie and not just a genre picture. It saddens me that more films couldn't have aspired to the level of greatness achieved here. Robert Hooks is awesome as T. The rest of the cast is also good. There's some great lines, good thrilling action, a tight story and script, a bit of substance, and, probably best of all, an awesome soundtrack by Marvin Gaye. This is a great looking film that is really entertaining, a lot of fun, and one that is definitely worth looking up.
Chris Weber
Super Reviewer
½
Robert Hooks stars as one sharp dressing, pool hustling, coke drinking, lady pleasing, bad-ass private eye in this cool and groovy seventies blaxploitation classic. As the film title suggests, trouble is very much afoot here after our man becomes embroiled in a potential gang war between rival factions, after one side hires him to find out who has been ripping off their low rent gambling dens. Matters become even more complex when our hero subsequently ends up being framed for a murder. None too pleased with being made the scapegoat however, our man subsequently sets out to get revenge which he does.....in violent style! Chock full of snazzy dialogue, cool music, and some fine action sequences, this is great stuff from beginning to blood soaked end. Hooks is especially cool in his role which makes it somewhat of a shame that there were never any sequels produced as for instance other similarly strong black protagonists of the time such as Shaft and Slaughter enjoyed. Oh well, as it stands, our hero in this is equally as memorable. Be sure to check this out.
Cassandra Maples
Super Reviewer
½
With Julius Harris on board, a Marvin Gaye soundtrack , and John Walton running illegal dice games, this should have been a 99 minute treat. Sadly these delights were counteracted by a leaden script and the completely charisma-free Mr T. Buy the album instead.
Trouble Man Quotes
There are no approved quotes yet for this movie.