Trouble Every Day (Gargoyle)
(2001)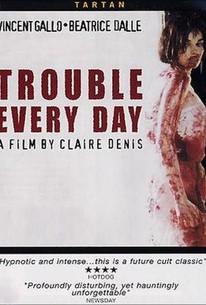 Movie Info
Two strangers share a strange and terrible bond in this stylish horror tale that juggles sex and graphic bloodshed. Shane Brown (Vincent Gallo) is a strange man with a forbidding nature who has just married lovely but nervous June (Tricia Vessey), and they've decided to go to Paris for their honeymoon. In the City of Lights, a beautiful but dangerous woman named Core (Beatrice Dalle) has been leaving a trail of dead bodies in her wake when she's captured by Leo Semeneau (Alex Descas), a mysterious scientist who spirits her away to his estate. As Core is placed under guard, Semeneau leaves to return to the city for an unnamed assignment; we soon learn that one of Shane's reasons for coming to Paris was to find him and retrieve some important information. In time, we also discover that Shane and Core have something rather unusual in common -- both are murderous cannibals who regularly feast on the flesh of their victims, and Semeneau's information may hold the key to the secret behind their deadly appetite. Trouble Every Day generated a certain amount of controversy in its screenings at the 2001 Cannes Film Festival, where a number of patrons walked out in disgust at the film's intense blend of sensuality and cannibalism.
Critic Reviews for Trouble Every Day (Gargoyle)
Audience Reviews for Trouble Every Day (Gargoyle)
It's all about creating a haunting, unsettling mood (and this is clearly reflected in the vague title), but the problem here is that this arthouse cannibal film starts from nowhere and goes nowhere, failing to engage us in its weird plot and not amounting to anything in the end.
Carlos Magalhães
Super Reviewer
½
Haunting, Sexy and Terrifying with great reserved art direction and a shivering soundtrack by Tindersticks.
Hassan Vawda
Super Reviewer
½
Claire Denis exercises brilliant directorial control in this brooding, deeply shocking film. The pacing of the story disarms the audience, so that when it reaches its gruesome climax we feel it on a physical level. Beatrice Dalle is terrifying in her limited amount of screen time, and Vincent Gallo is extremely convincing and understated. A beautifully made film that achieves a strong sense of atmosphere and tension. The score by Tindersticks is outstanding too. One of my favorite films from 2001.
Trouble Every Day (Gargoyle) Quotes
There are no approved quotes yet for this movie.