Triage
(2009)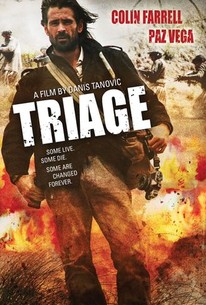 AUDIENCE SCORE
Critic Consensus: No consensus yet.
Movie Info
A man bearing the unseen scars of war struggles to recover amidst a family in chaos in this drama from writer and director Danis Tanovic. Mark Walsh (Colin Farrell) is a photojournalist who has earned a reputation for working in some of the most unforgiving locations on Earth, so when his editor Amy (Juliet Stevenson) asks him to cover the fighting in Kurdistan, Mark takes the assignment and thinks little of it, though his wife Elena (Paz Vega) is considerably more concerned. Mark and his friend and fellow photographer David (Jamie Sives) head off to the war full of confidence, but when Mark comes home alone after being separated from David, he seems like a different person, gaunt and unable to relax. Elena can't get Mark to talk about what he saw that left him so traumatized, so she invites her father Joaquin (Christopher Lee), a veteran psychoanalyst with military experience, for a visit to see if he can help. But as Joaquin struggles to get Mark to open up, the father's presence ignites an old conflict between him and Elena; the doctor was a supporter of Franco during the Spanish Civil War and served under the dictator's regime, and Elena has never been able to forgive him for his actions against the Spanish loyalists. Triage was an official selection at the 2009 Toronto International Film Festival.
Critic Reviews for Triage
All Critics (3) | Fresh (2) | Rotten (1) | DVD (1)
It's a film to admire from afar, taking on the challenge of depicting war zone trauma, but it rarely connects in any sort of profound manner.
It's the 88-year-old Christopher Lee's juiciest role in ages, and watching him play off with Farrell is easily worth enduring the shortcomings in 'Triage.'
...the central character's journey, while metaphorically rich in an obvious way, lacks some credence when all is said and done...Branko Djuric's Talzani could carry his own whole film
Audience Reviews for Triage
½
WELL...a Colin Farrel film that I really, really liked. I have never been a big fan of his, but he did a wonderful job in this movie. Powerful, profoundly moving film. Difficult to watch at times, but worthwhile with an award level performance from Colin Farrell. He is supported by an outstanding cast. Christopher Lee is of particular note..he was extremely well casted in this. But the films impact depends on Colin, and he reveals what a truly great actor he can be when liberated from action movie hell. Well directed, and thoughtful.
Cynthia S.
Super Reviewer
You know, I like Colin Farrell a lot, but he really doesn't seem to have found the most extraordinary work lately. Triage is absolutely forgettable and it doesn't appear that London Boulevard will be much better... (especially considering the release has been delayed over a year) That being said, Triage is not bad, but like stated before, it's forgettable. There really is not anything special about it. The one thing that really sticks out are the "artsy" bits. The photography and even the way everything else was shot is beautiful and/or repulsive at times. The rest of the material has potential, but it just never picks up steam. The story never really goes anywhere and while the characters are interesting broken people, they just have nowhere to go. So, honestly, it's not terrible, but I sort of regret having watched the film. It just feels like it was a waste of time.
½
While this war drama was predictable, it still kept me interested in it due to its excellent execution. Great performances by the actors involved added icing on the cake. However, this won't be everyone's cup of tea.
familiar stranger
Super Reviewer
Triage Quotes
There are no approved quotes yet for this movie.