Trespass
(1992)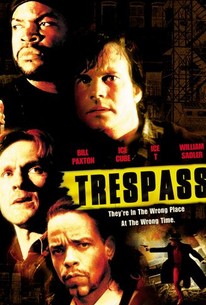 TOMATOMETER
AUDIENCE SCORE
Critic Consensus: Trespass pits public servants against gangsters in a race for stolen loot -- and thanks to a killer cast and Walter Hill's assured direction, the audience wins.
Movie Info
After learning the location of a bag of stolen gold, two Southern firemen head north to search an abandoned St. Louis factory for the loot in this action drama. Unluckily, they stumble into the middle of a gang war, and their battle for the gold leads to a violent confrontation.
News & Interviews for Trespass
Critic Reviews for Trespass
Audience Reviews for Trespass
Directed by action maestro Walter Hill and with a lead role for Bill Paxton this sounds like a great combination. Alas this turns out to be a very by the numbers thriller that can't really muster up anything overly exciting. The film is quite similar to another thriller by the title of 'Judgment Night' plot wise. Some out of town blue collar guys get themselves into a difficult situation with a local gang or hoods. In this film the two men are trapped within an old vacant building whilst looking for some lost stolen treasure while in the other film some men are lost and trapped within a broken down dodgy neighbourhood. The problem with this film is the bad guys, a gang made up of stereotypical cliched black hoods that are covered in bling and can't speak proper English. The casting has big names admittedly and includes most well known black character actors but for some reason Hill chose to cast Ice-T and Ice Cube...oh dear. Needless to say the acting from this pair is dire and ruins any potential tension whenever they are on screen. Overall there isn't really much tension a tall frankly, not enough to make you care whether Paxton or Sadler (good guys) make it out alive or not. Its an old film now yes so you could excuse the predictable obligatory stuff that's included, you know Sadler is the unhinged guy that will crack through gold fever (the lost stolen items) and you know all the hoods will turn on each other. Ice Cube makes that rather obvious the moment he utters his first words. Reasonably entertaining but lacking real bite. The reason 'Judgment Night' was so cool was down to the great casting of Leary as the main bad guy, this similar film is missing that key casting. Paxton is limp, Sadler is better as a villain and action is AWOL. The ending is slightly unique in the fact it doesn't end as you would think, doesn't make it any better though.
Phil Hubbs
Super Reviewer
½
Directed by Walter Hill, written by Robert Zemeckis, starring Bill Paxton, Ice Cube, Ice T, and Bill Sadler. Don't mind if I do.
Ken Stachnik
Super Reviewer
½
I remember watching this on tv a long time ago in school. Staying up late and not watching everything as I fell asleep. Great film then, not sure about now.
Alexander Wilson
Super Reviewer
Trespass Quotes
There are no approved quotes yet for this movie.