The Transformers - The Movie
(1986)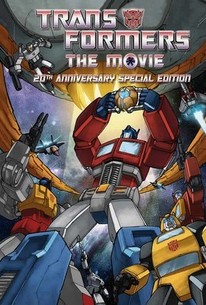 Movie Info
90 minute animated toy commercial in which the Autobots battle the evil Decepticons. Notable only for great cast of voices!
News & Interviews for The Transformers - The Movie
Critic Reviews for The Transformers - The Movie
Audience Reviews for The Transformers - The Movie
Now I didn't grow up in the 80s but I did grow up with this show on DVD and VHS at my cousins house a lot so I did grow up with the original transformers TV series, and I was very anxious to watch this movie, the only problem with this movie is, almost everything. The music just seems out of place even for the time the movie was made, the new characters are just irritating or dull as a rock, and the action isn't that exciting either. The only thing I remotlye liked in this movie was Orson Welles as Unicron but aside from tat this film just is unappealing to me.
Michael Edwards
Super Reviewer
You got the touch! You got the pooowwaaah! A bit dated and silly, but there's a rip-roaring soundtrack and a rousing adventure story.
Alice Shen
Super Reviewer
It may be the first feature film that the Transformers have ever gotten, but honestly, it is not their best. This film centres around what most people hate Michael Bays films for (too much action), in which I respond, "so how can you enjoy this?" Once Optimus Prime defeats Megatron, he is turned into Galvatron and becomes an even bigger threat to the Autobots, declaring an all-out war. By the end of the film, I was a little bored by all the excitement, but the score and songs played throughout this film were awesome. The story is fairly simple to follow and the voice actors are fantastic. "Transformers: The Movie" is good fun and nothing more.
The Transformers - The Movie Quotes
There are no approved quotes yet for this movie.