Transformers: Age of Extinction
(2014)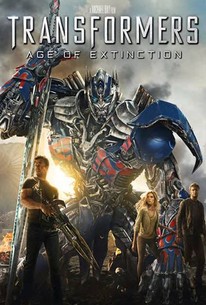 TOMATOMETER
AUDIENCE SCORE
Critic Consensus: With the fourth installment in Michael Bay's blockbuster Transformers franchise, nothing is in disguise: Fans of loud, effects-driven action will find satisfaction, and all others need not apply.
Transformers: Age of Extinction Videos
Transformers: Age of Extinction Photos
Movie Info
TRANSFORMERS: AGE OF EXTINCTION begins after an epic battle left a great city torn, but with the world saved. As humanity picks up the pieces, a shadowy group reveals itself in an attempt to control the direction of history...while an ancient, powerful new menace sets Earth in its crosshairs. With help from a new cast of humans (led by Mark Wahlberg), Optimus Prime and the Autobots rise to meet their most fearsome challenge yet. In an incredible adventure, they are swept up in a war of good and evil, ultimately leading to a climactic battle across the world. (C) Paramount
News & Interviews for Transformers: Age of Extinction
Critic Reviews for Transformers: Age of Extinction
Audience Reviews for Transformers: Age of Extinction
½
Infuriatingly silly and pointless, this is the most spectacular and stupid entry in the franchise. No plot to speak of and unbelievably flat characters and dialog make this hard to sit through, even during some of the action sequences. It doesn't help that the film is 30 minutes too long. When even huge action sequences feel repetitive and drag on forever your movie is in trouble. Most attempts in humor, especially on the Bots's side, are just poor. Only Stanley Tucci works here once his character gets interesting. He is the sole ray of light in this convoluted, stupid mess. One of the worst blockbusters of all times.
Four movies in, at this point you can either fall back on the old criticisms of Michael Bay as a filmmaker or simply let down your guard and look for any simple pleasures offered by the Transformers franchise, a series mostly known for chaotic plotting and action. Age of Extinction is probably the best Transformers film since the first one (take that for what you will) but it still has all the hallmarks of the obtuse and convoluted plotting, absurd and obnoxious characters, juvenile humor, intense product placement, and often incoherent action. Gone are the characters from the first three films and in their stead is Mark Wahlberg (upgrade) as a Texan inventor named, get this, Cade Yeager. He and his teen daughter come into contact with Optimus Prime and are on the run from multiple forces. Apparently a bounty hunter is looking to target Prime. The U.S. has a black ops team tracking down Transformers in hiding. And Stanley Tucci plays a business tycoon who wants to make his own Transformers via their magic substance "Transformium." Reading all of that, you realize the pieces still don't really make sense, and that's before the robot dinosaurs come into play. And yet Bay and his team have fine-tuned the entertaining aspects of the franchise and better consolidated them in the fourth film. A badass alien bounty hunter/collector is a great addition, adding the government as an adversary, Titus Welliver (TV's Lost) as a cocksure special agent, Tucci as a corporate blowhard, and robot dinosaurs, it all sort of works on its own terms. Again, if you try and logically connect the pieces, it won't happen. By this point, if you're not a fan of the series, there's no real reason to continue watching, but if you've found any semblance of enjoyment then there should be enough to keep your attention with the fourth film. Nate's Grade: C+
Nate Zoebl
Super Reviewer
This started out way better than I thought, but then fell off the rails at the end. Did it end? I wasn't sure because it felt like it went on forever.
Transformers: Age of Extinction Quotes
There are no approved quotes yet for this movie.