Transcendence
(2014)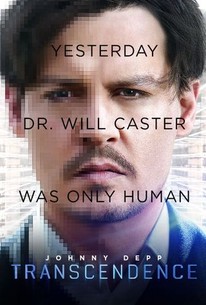 TOMATOMETER
AUDIENCE SCORE
Critic Consensus: In his directorial debut, ace cinematographer Wally Pfister remains a distinctive visual stylist, but Transcendence's thought-provoking themes exceed the movie's narrative grasp.
Movie Info
Sci-Fi Thriller. Dr. Will Caster (Johnny Depp) is the foremost researcher in the field of Artificial Intelligence, working to create a sentient machine that combines the collective intelligence of everything ever known with the full range of human emotions. His highly controversial experiments have made him famous, but they have also made him the prime target of anti-technology extremists who will do whatever it takes to stop him. However, in their attempt to destroy Will, they inadvertently become the catalyst for him to succeed-to be a participant in his own transcendence. For his wife Evelyn (Rebecca Hall) and best friend Max Waters (Paul Bettany), both fellow researchers, the question is not if they can...but if they should. Their worst fears are realized as Will's thirst for knowledge evolves into a seemingly omnipresent quest for power, to what end is unknown. The only thing that is becoming terrifyingly clear is there may be no way to stop him.(C) Warner
News & Interviews for Transcendence
Critic Reviews for Transcendence
Audience Reviews for Transcendence
½
An interesting concept that falls through due to terrible execution. You will sit through this movie feeling and thinking nothing. And, you will likely be walking away from this feeling as though you completely wasted two hours of your life. I know I did.
Nikhil Nandu
Super Reviewer
Johnny Depp likes to play off beat characters. In "Transcendence" he plays an A.I. researcher who dies, who then has his mind put into an A.I. program and he ultimately wants to play god. This reminded me a lot of "Lawnmower Man", now I can be off with that because it's been forever since I've seen that. But it has a very similar vibe to it. There are flashes here of brilliance, but overall, the movie never works like it should. Can't quite put my finger on it as to why either. Has a good cast with Depp, Morgan Freeman, Paul Bettany, and Rebecca Hall. The story is decent enough, but jump something about the execution of it all had me shrugging my shoulders going "meh". It's not something I'll probably ever feel an urge to revisit, but I can see how some people would enjoy it. Interesting movie, but just didn't work for me.
Everett Johnson
Super Reviewer
Transcendence is a decent film that could have been so much more. The result that is displayed here is a film that is quite ambitious, but you feel that the film a bit lacking and it should have been better of course. The idea is great, and to be honest, I liked the film, but it did fall short of what it could have been. The film isn't as bad as what everyone says, but I'll admit that the script could have been tighter and more polished before being given a green light. This is an average Sci Fi film that has some good performances and it does work at time. However in other scenes, you are left wanting much more depth to the story and by the time the credits roll, you feel that there is a definite room for improvement. Now, is it a mess, it isn't, Transcendence is a bit underrated to be honest, and for what it is, it's entertaining. However, like I stated before, this film should have been great considering the talent involved in the project and some terrific ideas that unfortunately never seem to come to absolute fruition. I think it's a good effort, and I can understand why it got some flack, but there are far worst films out there that have come out this year such as I, Frankenstein. I would say that the best way to enjoy the film is to keep your expectation really in between, and you might like it, but you're surely going to feel that this film needed something more when the credits end. Transcendence is not great, but it's not bad either. I enjoyed the film, and it had some interesting moments. One must wonder if there would have been more effective thrills if the script would have been rewritten a few times.
Transcendence Quotes
There are no approved quotes yet for this movie.