The Train Robbers
(1973)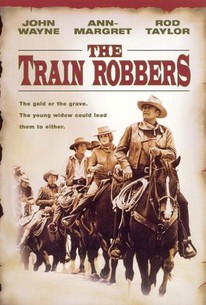 Movie Info
Director Burt Kennedy lends a gentle giddyap to this soft-hearted John Wayne western. The plot concerns Lane (Wayne) and an assortment of old-time buddies -- including Jesse (Ben Johnson) and Grady (Rod Taylor) -- to help Mrs. Lilly Lowe (Ann-Margret). It seems that some time in the past, her deceased husband had stolen half a million dollars in gold and buried it in the Mexican desert, and only she knows where it's been hidden. Lane and his friends don't want the gold, but the reward money for its return. Lilly wants the gold found so that she can clear her good name. But, unfortunately, the Good Samaritans find themselves menaced by a viscous outlaw band and a cool-headed Pinkerton man (Ricardo Montalban).
Critic Reviews for The Train Robbers
Audience Reviews for The Train Robbers
½
There's a plot here, a story, but this film, filled with shots of Wayne and his band riding (riding left, riding right, up hills, crossing rivers, riding, riding) is actually more concerned with aging. Thank goodness for Ann Margret who saves this from being a visit to the rest home.
Kevin M. Williams
Super Reviewer
Very formulatic and average in terms of plot, but it doesn't really matter when John Wayne's in it. This is actually a very fun movie and extremely watchable. While it's not fantastic or one of The Duke's best, it's a solid entry in his film career and harmless in nature. You really can't go that wrong with John Wayne if you're a fan of his.
Conner Rainwater
Super Reviewer
½
This is a rollicking caper from writer/director Burt Kennedy, a specialist in Westerns with a comic touch. Here he sets a mood of amiable adventure among colourful characters, not stinting on the two-fisted action that's part of all the best John Wayne Westerns.
Dean McKenna
Super Reviewer
The Train Robbers Quotes
There are no approved quotes yet for this movie.