The Tracey Fragments
(2008)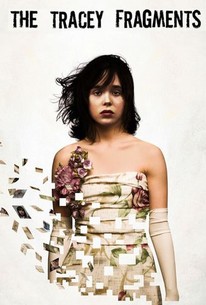 TOMATOMETER
AUDIENCE SCORE
Critic Consensus: Splitscreen intensive and at times ambiguous, this Ellen Page vehicle cum psychodrama takes audacious risks that may confuse.
The Tracey Fragments Photos
Movie Info
"The Tracey Fragments" uses highly inventive and dynamic Mondrian-like split screens to tell the story of why 15-year-old Tracey Berkowitz is riding out a blizzard in the back of a city bus, naked except for the tattered curtain she's wrapped in, and looking for her missing brother (whom she fears she has hypnotized).
News & Interviews for The Tracey Fragments
Critic Reviews for The Tracey Fragments
Audience Reviews for The Tracey Fragments
½
"Run Lola Run" is the firt movie that came to my mind. "Paranoid Park" somehow too. The movie runs exactly as our mind: a constant in and out of thoughts, fellings, memories and made up facts. Fragments that are part of many stories and end up in a single one. Messy. If there is a truth, it´s hidden somewhere. If you can´t follow Tracey´s mind (it can be tiresome sometimes), an unplugged version can eb found on youtube. It´s also interesting , but not the same type of amazed confusing "experience" the film itself can offer.


Rubia Carolina
Super Reviewer
Hmmm... it was hard to watch with all the PIP boxes everywhere. Might have been really good aside from that. Page was very deep and amazing in her role though.
Leigh Ryan
Super Reviewer
½
"fragments" is definitely the key word with this movie, describing both the presentation of things, the mindset of the titular character, and how I (and I'm sure many others no doubt) feel about this movie. The Tracey Fragments is more like an exercise in editing or an experience than a movie. The tone, mood, and atmosphere that are created are a huge part of things, and I really liked them. The artsy style and editing add to these things, but they end up taking over, and become a big distraction. Toning down the split screen stuff would have made for less tediousness, unless that was part of the filmmaker's point. The performances are good, and the music is nice, and I have to give some props for creativity and ambition, but this movie was a little too out there. I'm not sure of it's exact place, but this film ranks pretty high on my list of the most out there, off-the-wall, and mind-boggling films I've ever seen, which isn't necessarily a good thing or a bad one. There's nothing wrong with style and experimentation, which is why this film isn't getting a lower grade, but the over usage of said things is what keeps it from getting anything higher.
Chris Weber
Super Reviewer
The Tracey Fragments Quotes
There are no approved quotes yet for this movie.