Toys
(1992)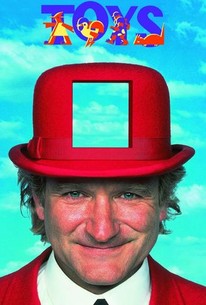 TOMATOMETER
AUDIENCE SCORE
Critic Consensus: Like a colorfully overengineered gewgaw on the shelf, Toys might look like fun, but its seemingly limitless possibilities lead mainly to confusion and disappointment.
Movie Info
Barry Levinson directed this cautionary fantasy fable--a triumph of production design--concerning the clash between benevolent, funny toys and malevolent, violent war toys and video games. Donald O'Connor is the kindly, gentle Kenneth Zevo, founder of Zevo Toys. The workers love him and the love they feel for Zevo comes through in the lovingly cute toys they produce. His son Leslie (Robin Williams) is an eccentric inventor who concentrates on coming up with different styles of plastic vomit and over-sized ears. His addle-headed daughter Alsatia (Joan Cusack) enjoys trying out all of Leslie's inventions. But their innocent, idyllic existence is soon to be shattered. Kenneth is dying and he is reluctant to bequeath the factory to the immature hands of Leslie and Alsatia. He finally decides to pass on his factory to his three-star general brother (Michael Gambon), reasoning that the general will run the factory efficiently and prod Leslie and Alsatia into adulthood. When Kenneth dies, the general and his army surplus son Patrick (LL Cool J) immediately turn Zevo Toys into an oppressive fascistic environment. The general also stops production of the innocent Zevo products and forces the workers to manufacture violent interactive video games and sadistic war toys. Leslie must rouse himself out of his over-long childhood to preserve the tradition of Zevo Toys. Although Toys did not fare well at the box office, it features a stunning combination of production design by Ferdinando Scarfiotti and art direction by Edward Richardson.
News & Interviews for Toys
Audience Reviews for Toys
½
Getting down to the nitty gritty of the plot this is basically a blend of imagination taken from 'Willy Wonka', 'War Games' and strangely enough a few Charles Band movies I reckon. Maybe even some 'Pinocchio' and classic children's fairytales. All it involves is a surreal toy company run by some surreal people that make charming little toys (the kind of endearing little handmade stocking fillers) which is overtaken by the former owners brother and promptly used to make war toys. Its almost like a fairytale really, the nice old toy maker dies and leaves his company to his war obsessed naughty brother who abuses the gift. I'm sure as you all know by now this film is certainly not short on visual fantasy elements. The creativity in the film is really quite stunning and deserves much credit for design and construction. Some gorgeous sets with unusually fantastic colour schemes and backdrops. The toy factory is made to be as bizarre and wondrous as possible which leads to my comparison with 'Willy Wonka' and his marvellous chocolate factory. The later sequences in the plot remind you of 'War Games' in the fact all the toys end up going to computer controlled war with each other much like Charles Band and his dolls/puppets battling each other (visually). This is where the film gets too ridiculous and truly loses its suspension of disbelief. Until that point its a quirky fun pleasant ride with Williams up to his usual zany antics. Williams and Cusack fit this Dali-ish world perfectly really, that's not to say their performances are exactly great, more annoying to be honest, but could you see anyone else doing this craziness?. Gambon actually does well as the war crazed brother with a stiff upper lip. Drunk with power over the company and his war toys his fall is surprisingly fun to watch, silly but the fact he's a great British actor makes it worth while. LL Cool J...epic miscast. Everything about this film is plain weird right down to the location for the toy factory. Its a little uncomfortable in places really, unsure if that was done on purpose or not. There are nice ideas here and it could of been a really good children's bedtime story type fable but its overly long with not much going on. Its lavish but rather dull, plus its a bit jumbled and gets carried away with the surrealism.
Phil Hubbs
Super Reviewer
I really liked this movie when I first saw it, but seeing it again later, I thought it looked silly. The basic themes and the story are really good, though, and Williams gives a good performance too.
A pretty random film, it is kinda fun during some parts.
Tim Salmons
Super Reviewer
Toys Quotes
There are no approved quotes yet for this movie.