The Toy
(1982)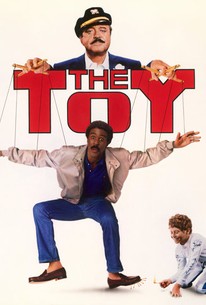 Movie Info
In The Toy, director Richard Donner and screenwriter Carol Sobieski update the 1976 Pierre Richard farce Le Jouet as a vehicle for comedian Richard Pryor. Pryor stars as out-of-work journalist Jack Brown, who's hit with the sudden realization that his idle book writing won't pay a 10,000-dollar sum necessary to keep his house from going to auction. Desperate, he is improbably hired as a cleaning lady in the offices of rich businessman and newspaper magnate U.S. Bates (Jackie Gleason). Running afoul of Bates' quick temper, Jack gets the axe, but is later spotted goofing around in a Bates-owned toy store by Bates' bratty son, Eric (Scott Schwartz), who's spending his annual week together with his estranged father. Taking his father's offer that he may have "anything in the store" quite literally, the spoiled kid asks for Jack as his personal toy for the week. Initially unwilling to be treated as a possession, Jack soon agrees after Bates offers to pay him enough to climb out of debt. When Eric's idea of fun includes dumping buckets of booby-trapped oatmeal on Jack's head and riding down the stairs of his father's mansion with Jack riding shotgun in a miniature car, it tests both Jack's patience and his resolve. But Jack discovers that Bates is ignoring Eric, which strengthens the bond between them and prompts them to seek revenge on the big jerk.
Critic Reviews for The Toy
Audience Reviews for The Toy
I have no idea why anyone thought it would be funny if some rich guy bought Richard Pryor as a "toy" for his son. That sounds pretty crazy, right? This movie is actually pretty funny for the most part, but it's hard to get over the stupid plot. Overall, it's okay.
Oh boy, definitely an 80s movie. The spiderman pajamas scene was the best. I want a boxing robot!
A lot of people don't like "The Toy" for some reason, but I did. I didn't see what's not to like about the movie. Jack (Richard Pryor) is a journalist who is trying to find a good job. Eric (Scott Schwartz) is a boy who gets everything he wants, but is struggling to get along with his father. Therefore, Eric gets his dad (Jackie Gleason) to buy Jack as his toy because that's what he wants. Jack and Eric turn out to be great friends and Jack becomes a role model for Eric and teaches him some great lessons. "The Toy" is a great movie. Parts of it are hilarious and some parts have a lot of meaning to them. I recommend anybody to get "The Toy." NOTE: That was my Amazon review from the year 2000. Used to watch this great movie a lot.
Jason Owens
Super Reviewer
The Toy Quotes
There are no approved quotes yet for this movie.