Topsy-Turvy
(1999)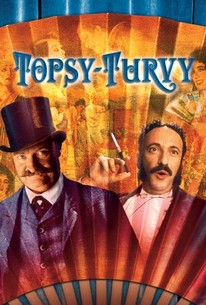 Movie Info
William Schwenck Gilbert is the librettist, writing the words. Arthur Sullivan is the composer, writing the music. Gilbert is the very model of a 19th-century British gentleman, an overly proper married man certain that he knows best. For nearly a decade, Gilbert and Sullivan's collaborations have delighted the English people. Their popular comic operas have recouped handsomely for the successful Savoy Theatre... But, in 1884, as a London heat wave cuts into the theater trade, their latest work, "Princess Ida," receives lukewarm press. Sullivan rejects Gilbert's next idea as "topsy-turvy" and unbelievable, and although Gilbert tries to accommodate him, they cannot agree. Mired at a creative impasse, Gilbert and Sullivan can barely converse. Then, Gilbert's wife, Lucy "Kitty" Gilbert, drags him along to a Japanese exhibition--exposure to the very different culture begins inspiration to embark on the production of "The Mikado."
Critic Reviews for Topsy-Turvy
Audience Reviews for Topsy-Turvy
½
Mike Leigh would not be the first name that springs to mind when presented with a biopic of Gilbert and Sullivan. Possibly Anthony Minghella, or maybe Ang Lee, but never a director only known for gritty, unremittingly depressing working-class drama. However, in 'Topsy-Turvy', Leigh has not only directed, but written, a fine piece of period comedy-drama. Leigh, it transpires, has always loved Gilbert and Sullivan and the love shows in his highly polished script. It not only exploits the music and words of the great nineteenth-century operettists but retains a feeling for the wit of their work throughout. W.S. Gilbert (Jim Broadbent) is more than annoyed at suggestions that he is becoming unoriginal and Arthur Sullivan (Allan Corduner) rather tired with working with him. He wants to produce great music and is uninspired by Gilbert's latest libretto. A chance visit to an exhibition of Japanese customs and produce stimulates Gilbert to write 'The Mikado', one of his most witty works (and, it seems, Leigh's favourite). After a lengthy vacation, Sullivan is willing to write the accompanying music and rehearsals begin. This is where Leigh's brilliance as both writer and director shines through, creating enormously entertaining and dramatic scenes while underlining the partners' unceasing perfectionism. A cast full of Leigh regulars, headed by the dreaming Corduner and wonderfully cantankerous Broadbent, are marvellous, with Timothy Spall and Kevin McKidd stealing the show as a pair of complete 'luvvy' actors. It is Shirley Henderson (also excellent in Michael Winterbottom's 'Wonderland') who gives the film a real emotional centre, however, as a widowed actress slowly turning to drink. Leigh's past, it seems, has not entirely been left behind.
Cassandra Maples
Super Reviewer
When a director you love goes out on a limb, it often ends in tears, particularly if their chosen vanity project is a musical. Martin Scorsese and Stephen Frears both wobbled when their minds turned to music; both New York, New York and Mrs. Henderson Presents lack the obsessive craft and flourish we expect from these directors. And that's not to mention At Long Last Love, Peter Bogdanovich's atrocious Cole Porter homage, which is so bad that it has never been released on home video. But then of course, Mike Leigh has never been one to follow the herd. Topsy-Turvy, about the partnership of Gilbert and Sullivan surrounding the writing of The Mikado, is as far removed from his 'ordinary' subject matter as one can humanly conceive. Yet it remains a quintessentially Mike Leigh film in its meticulous focus on characters and the absence of anything which feels false or contrived. Like all of Leigh's films, Topsy-Turvy is centrally a rich character study. He never starts with a script, preferring to improvise scenes with the actors, plotting out the course of the characters in terms of their relationships with others, and then creating stories out of this. His films are less concerned with moving the plot forward than with exploring how relationships change in the face of adversity, which helps to explain both the long running time and the incredible attachment you feel towards the people on screen. Leigh is not the most disciplined director around, and there are certain moments which either don't belong at all or which should have been tightened up. Many of these are of scenes running on too long, like Gilbert's unnecessary chat with his father. But the weirdest of these moments comes about 20 minutes in. We find Sullivan in a French brothel, watching a dance by two topless women, while in the background a man eerily resembling Ralph Fiennes is playing the piano and singing falsetto. It's a really strange scene which makes you wonder where all of this is heading. Fortunately of us, there is very little about Topsy-Turvy which is either confusing or irritating. The film in general is a delight, combining a series of wonderful performances with a meticulous period setting and a strong score fully integrated into the action. It manages to get the audience interested in a subject matter which is more at home in historical papers or making-of documentaries. What we get in this film is the relationships between a host of interesting and highly personal characters, and an insight into all the little struggles involved behind the scenes in a theatre production. An even bigger coup is to take music which many people consider toe-curling and turn it into an exciting spectacle. The origin of the music is carefully explored, bound up in both the struggle between Gilbert and Sullivan and in the nature of Victorian society. By giving us an insight into the rich language of the well-to-dos before a single note has been sung, Leigh situates the music in an historically specific context. It is a subtle argument that each piece of music is perfectly suited only to the time and place in which it is created; what was once visionary is now cheesy and twee. What we are seeing here is not modern actors reinterpreting old hat; we are witnesses to an organic creative process which can never be properly replicated. This musical coup is bolstered by the realistic score. Allan Corduner, who plays Sullivan, seems to be genuinely playing the piano when he is required, and his conducting is not simply that of an actor waving his hands in a random direction with the intention of looking pompous. The entire orchestra appear to be playing their instruments and are captured masterfully by Carl Davis, who manages to give us the clarity of a modern recording while replicating the feeling of a orchestra pit. The film as a whole looks ravishing, thanks to Dick Pope's wonderful cinematography. The sets and costumes of the Savoy Theatre correspond largely to drawings and descriptions of the period, and the choreography is kept deliberately creaky to avoid any anachronisms. People may complain that you can do more with a fan than simply open and close it, but that was now the case on the stage of the 1880s. The point is that, as with the music, you feel genuinely transported to a different time and place, which is admirable even if that time and place is not to your personal taste. Don't think for one minute, however, that Mike Leigh has gone soft. It may all seem spiffing and whimsical on the surface, but there is a darkness to Topsy-Turvy which is trickier to spot. In amongst all the wonderful and hilarious scenes of actors bitching, we have glimpses of the darker side of Victorian life. The most obvious come towards the end, where Gilbert is accosted in the dark streets by a mad beggar, and we see an underdeveloped glimpse of Grossmith's heroin addiction. More subtle is the scene of collective, almost socialistic defiance when Temple's solo is cut by Gilbert; the entire chorus corner Gilbert the next day outside and convince him to re-instate it. Leigh is reminding us in these scenes not to be seduced by all the pretty colours and floral language. Like the music and the acting, we have to acknowledge their virtues as being historically specific. The film has a really great cast of much-loved British character actors. Jim Broadbent and Allan Corduner are perfect as Gilbert and Sullivan, with the former being stubborn, volatile and yet strangely warm. Timothy Spall has never been better as Temple; his scenes with Kevin McKidd are simply to die for. They are laugh-out-loud funny, being both incredibly ostentatious and yet deeply moving. It's also the only film in which you'll get to see him dance around in a kimono with a feeler on his head. Elsewhere there are strong supporting roles from Ron Cook and Shirley Henderson, along with a sadly fleeting cameo from Alison Steadman. All the actors sing very well, and the film doesn't simply end in a predictable triumph. The series of revelations surrounding the abortion, Gilbert's marriage and the uncertainty of Henderson's character, pull us back into the real world after all the luvvie stuff has worn off. Leigh wants us to wonder what became of these people, deliberately leaving things open and giving us with limited information Topsy-Turvy is Mike Leigh at his most playful and whimsical, but as we have seen all the dark and classic elements of his work remain. It represents a broadening of his palette, perhaps proof to his critics that he could do more than present-day kitchen-sink dramas. This could be seen as the trial run to Vera Drake, but Topsy-Turvy deserves recognition in its own right. It aptly captures the world of the 1880s, marries it with Leigh's political sensibilities and so produces a highly interesting and entertaining period piece. It's too long, baggy, and certain sections will be too quaint for the full-blooded Trots among us. But it is still a fine achievement, and proof that musicals are not beyond the talents of the best directors.
Daniel Mumby
Super Reviewer
½
the marvelous backstage story of the creation of gilbert and sullivan's mikado. i'm not a fan of operetta, and it's certainly not for everyone, but i enjoyed the hell out of it. jim broadbent is a constant delight. if u like musicals or british costume drama check it out
Stella Dallas
Super Reviewer
Topsy-Turvy Quotes
There are no approved quotes yet for this movie.