Topper
(1937)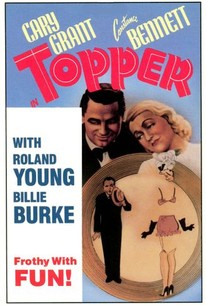 Movie Info
By 1937, producer Hal Roach was hoping to wean himself away from the Laurel & Hardy-Our Gang slapstick on which he had built his studio's reputation by delving into the "screwball comedy" genre. Roach selected the racy Thorne Smith fantasy novel Topper for adaptation, and the result was one of the most endearingly funny films of the decade. Constance Bennett and Cary Grant play Marion and George Kerby, a wealthy, freewheeling young married couple whose uninhibited lifestyle is the talk of the town. After a particularly bibulous evening on the town, the Kerbys race homeward in their gleaming new roadster. George fails to negotiate a curve, and the car plows into a tree, killing both its occupants. Seconds later, the ghosts of George and Marion emerge from the wreckage, behaving as frivolously as if nothing had happened. Upon realizing that they're dead, the Kerbys also realize that they haven't been immediately snatched up into Heaven. Determining that they're required to perform one good deed before being allowed past the Pearly Gates, George and Marion set about to "liberate" stuffy, sedate, henpecked banker Cosmo Topper (Roland Young). At first resistant to the charms of his invisible benefactors, Topper begins to loosen up and truly enjoy life for the first time. Naturally, this doesn't sit well with Topper's supercilious wife (Billie Burke) nor his long-suffering butler (Alan Mobray), especially during a climactic free-for-all at a vacation resort. Though special effects abound in Topper, most of the humor derives from the embarrassed reactions of Roland Young as he tries to fend off the flirtatious advances of the ghostly Marion and the benignly strongman tactics of the spectral George. Adding to the fun are Eugene Pallette as a flustered house detective and Arthur Lake as a pratfalling bellboy. The musical score by longtime Hal Roach composer Marvin Hatley is perfectly attuned to the zany goings-on (including snatches of background music from Roach's earlier Laurel and Hardy comedies), while Hoagy Carmichael appears briefly on screen to introduce the film's signature tune, "Old Man Moon." Topper proved successful enough to warrant two sequels, as well as a popular TV series of the early 1950s.
News & Interviews for Topper
Critic Reviews for Topper
Audience Reviews for Topper
'Topper' is a fun and playful movie which has several things going for it, starting with Cary Grant and Constance Bennett, who play a sophisticated married couple who enjoy staying out all night carousing. They are both delightful. Grant gets a little too reckless behind the wheel of his expensive sports car, and they end up ghosts, but there's no sadness here, and the only difference seems to be that they can now become invisible. They still have appetites (e.g. for alcohol) and can make physical contact with things. Does that make sense? I don't know, but who cares. The film works as a romantic comedy and relationship film, as Grant and Bennett are contrasted by a wealthy banker (Roland Young) who is stifled by his prim wife (Billie Burke), who has him on a tight leash and schedule. She needs to loosen up, and he needs to assert himself, and Grant and Bennett help that along in their own odd ways. There are solid performances all around, and you'll recognize Burke from her role as Glinda the Good Witch in 'The Wizard of Oz'. The special effects are nice, including seeing Grant and Bennett fade in and out, and float various objects in the air (the tire changing scene is brilliant). It's also nice to see Hoagy Carmichael perform a catchy song, 'Old Man Moon'. Don't overthink it, and you'll enjoy this one.
Antonius Block
Super Reviewer
½
Topper, a serious minded, by-the-book sort of fellow, is in danger of being trapped in the monotony of complacency when two freewheeling buds decide to loosen him up just a little. Nothing too serious, mind you, except for ... oh, but they're dead. They're ghosts. By modern standards its hard to tell the difference much between the monotony of complacency and freewheeling depicted here, but still a grand time is had by all in this, the film that solidified Cary Grant as major star material. But this is a team effort, everyone onscreen contributing to the smiles that follow.
Kevin M. Williams
Super Reviewer
I liked this movie, not just because I love Grant, but it's a very funny movie. It has a great story, uses old special effects, and has great actors. What more could you want?
Topper Quotes
There are no approved quotes yet for this movie.