Toolbox Murders
(2004)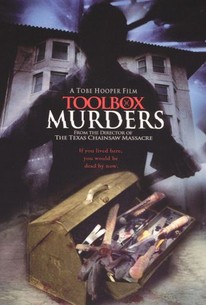 Movie Info
Tobe Hooper, who directed one of the truly iconic American horror films of the 1970s, The Texas Chainsaw Massacre, offers his take on another well-remembered scare-fest of the era with this remake. Steve (Brent Roam) and Nell (Angela Bettis) are a young couple living in Los Angeles who are short on money -- she's just started work as a teacher, while he's a medical student doing his internship. They rent a flat in the Lusman Arms, a once beautiful but now decaying (and therefore affordable) apartment building managed by the sleazy Byron McLieb (Greg Travis), who tries to pass off the ramshackle accommodations as "charming" and "historic." Watching over the Lusman Arms beside Byron is Ned (Adam Gierasch), a greasy simpleton who serves as the building's handyman. Steve and Nell haven't been living at the Lusman especially long when she notices that a growing number of young women living in the building have been meeting a violent death, and with some help from good-hearted part-time actor "Jazz" Rooker (Rance Howard), she begins looking into the murders and makes some disturbing discoveries about both the building management and her fellow tenants.
Critic Reviews for Toolbox Murders
Audience Reviews for Toolbox Murders
As far as remakes are concerned, Toolbox Murders is a pretty good film that captures the essence of the original, and modernizing them. In this version directed by Tobe Hooper, he tends to give the film a much darker atmosphere which is strength of the film because the original was pretty sleazy in its conception. Also a standout with this version is the fact that there is a slightly better plot this time around and the kills are much better done with more blood to appeal to gore fans everywhere. Toolbox Murders is a fine return to form for Horror master Tobe Hooper as his work tended to suffer quite a bit in the 1990's, which is a great shame because Hooper's earlier movies were terrific and are classics in the genre. However despite this short return to form, Hooper's work would fall apart again with his follow up, Mortuary. Toolbox Murders on the other hand shows that Tobe Hooper still can a good horror yarn when he truly puts his mind to it, and I think that he still has the drive to make other good movies. Hooper's direction with this film is top notch, and though it isn't perfect, this remake is pretty good and the cast do a fine job and are well cast in their parts. If you love Slasher films, then check this one out, it's definitely one of the better remakes in recent memory and it may not be the best film that Hooper has directed, but it definitely is the best film that he's directed in a long time.
½
Despite this cast's horror pedigree (Angela Bettis, Juliette Landau, etc.), there is really nothing special about this movie. It's just another formulaic film about some killer stalking people in an apartment building and killing them in nasty ways. If you've seen one, you've seen a million.
Emily Armstrong
Super Reviewer
Tobe Hooper's 2003 version of the Toolbox Murders is a fun little movie. It's a bloody good time to watch, although it's not scary, but the fun factor makes up for it. I haven't seen the original, but I'm sure it's better than it. The middle part drags a little bit, but once the main character stumbles apon the "hidden" portion of her apartment building, the fun and action begins! Props to Tobe Hooper for a great and well done opening sequence. Most films that have somebody killed in the beginning have the next scene take place somewhere else or on the next day, the scene after it takes place the second after it!
Cassandra Maples
Super Reviewer
Toolbox Murders Quotes
There are no approved quotes yet for this movie.