Too Tired to Die
(1998)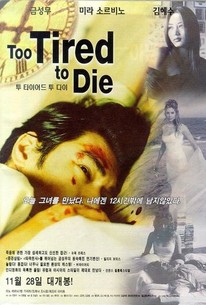 AUDIENCE SCORE
Critic Consensus: No consensus yet.
Movie Info
South Korean-born Wonsuk Chin, a NYC resident for eight years, made his directorial debut with this hip comedy, shown at the 1998 Sundance Film Festival. With numerous cinematic references and allusions (Bergman, Godard, Woo, Hartley), the tale begins with a black-and-white silent sequence depicting Death chasing a young man through Old Baghdad. The setting shifts to present-day New York, where a Japanese man, Kenji (Takeshi Kaneshiro of Chungking Express) is seen abed in a sparsely furnished apartment. Kinji goes to a local cafe where he chats with several others: Italian friend Fabrizio (Michael Imperioli) who proclaims, "Lubitsch is the god!"; a literary wit, Balzac Man (Jeffrey Wright); and an enigmatic German woman, Pola (Geno Lechner), who hints at a possible sexual liaison with Kinji. Death (Mira Sorvino) drifts about, assuming various forms -- disco gal, Japanese geisha, Chinese woman, devil with a red dress on, and a French-accented figure dressed as a man. The sad and lonely Death informs Kenji that she has no choice in determining her victims, and he also learns from her that he has only 12 hours left to live. She suggests that he make the most of his remaining minutes, so he sets forth on a series of brief adventures. At the cafe, he chides famous artist John Sage (Ben Gazzara) for being involved with a decades-younger girlfriend, the beautiful Korean Anouk (Hye Soo Kim). Sage invites Kenji to dinner at their home, and Death invites herself. Kenji makes the proposal that since he's due to die, he could be allowed sex with Anouk as a final act. This request isn't well received by anyone present, leaving Kenji to his own devices as the darkness closes in. Mira Sorvino wears a virtual fashion show of colorful costumes in this movie, which also provided her with the opportunity to speak Chinese onscreen for the first time. Sorvino majored in Asian studies at Harvard and lived for eight months (1988-89) in Beijing, where she studied Chinese, taught English, and viewed a variety of Chinese films. Too Tired to Die and The Replacement Killers both brought her several steps closer to her announced goal of making a film in Mandarin and working with a Chinese director.
Critic Reviews for Too Tired to Die
Audience Reviews for Too Tired to Die
½
Strange film with Japanese sensibilities and director and lead, but American setting and majority of cast. Kenji dreams about death aka Mira Sorvino, and then she turns up to inform him he's next on her list. And then various quirky talky strangers turn up to fill the waiting. I quite liked this, it was a bit different and filled the time nicely.
Too Tired to Die Quotes
There are no approved quotes yet for this movie.