Too Much, Too Soon
(1958)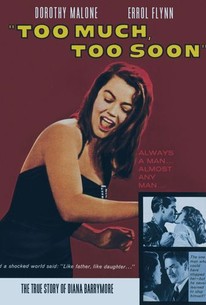 AUDIENCE SCORE
Critic Consensus: No consensus yet.
Movie Info
As a member of one America's great acting families, it was expected that actress Diana Barrymore would also have a distinguished career. But like her father John, Diana had a destructive alcohol addiction and her career, though promising, never panned out. This tragic drama is based on her autobiography.
Critic Reviews for Too Much, Too Soon
There are no critic reviews yet for Too Much, Too Soon. Keep checking Rotten Tomatoes for updates!
Audience Reviews for Too Much, Too Soon
½
It's a little tough to rate this film, and as I try to drill down into that feeling, I think it's because it seems a little less than fully honest in its portrayal of Diana Barrymore, despite some of the depths we see her sink to, and the humiliations she endures. It also seems like a much more interesting biographical movie would have been one based on her carousing father, the great actor John Barrymore. Over the first half of the movie, we see John (Jack) Barrymore played by Errol Flynn, and he alone makes the film worth seeing. It's such a poignant role, portraying his real life friend's decline from alcoholism in his later years, while Flynn himself was suffering from the same thing, and would die just one year later at 50. We see him still craving the attention of a star, wishing he had behaved better with his daughter, and sneaking bottles of alcohol by hiding them in the knight's armor he has in his depressing and barren old mansion. He's also an angry and violent drunk. The call where he tries to connect with Diana's mother (Michael Strange, played by Neva Patterson) is touching, as is the scene where Diana eventually leaves him. To some extent, Dorothy Malone is thus overshadowed. Early on she looks and acts far too old to play a teenager (she was 34, and Patterson, playing her mother, was 38). She comes across as simply in need of parental affection, which was undoubtedly true, but a little too squeaky clean, for example, only beginning to drink when her father dies. It is also a little odd that we're not even made aware that America was at war when she started her film career, though perhaps that is true to this person's life and just how insulated she was. Malone's performance and the character come to life in the second half of the film, and there are some pretty sad moments. We see her flirting at a lavish party in her home while her first husband is on location shooting a film, then sleeping with one of the guests and getting caught when he returns. We see her second husband, an amateur tennis star, hitting tennis balls at her during an argument. She lives in a tawdry apartment with her third husband, with the power cut off because they haven't paid the bill, and while a neon sign flashes incessantly outside their window in the night, he throws a drink in her face. Later as her career has fizzled and she's spiraling, she gets up on stage in a cheap joint after a stripper performs, to do impressions to a jeering crowd. It would be easy to not feel sorry for someone who was given so much of an opportunity in life but threw it away, but that's too harsh. I think it's important to understand why a person has turned out a certain way and to empathize, but at the same time, there is accountability, and here, probably because the tale was told by Diana herself, the scale seems tipped too much away from the latter. We do see her in self-destructive acts such as not showing up to finish a film, driving drunk, and arriving in a small town to act in a play hammered and face down on the floor in her train compartment, so it's not completely sugar-coated, however, the film seems to be saying that if only her parents or these men in her life had treated her better, she wouldn't have had the trouble she did. The rosy hued tone of the end seems suspiciously syrupy, and of course, as Diana would die just two years later at 38, there is a certain bitter irony in it. It's as if the autobiography and resulting movie had the veneer of an actor, always looking to act. Regardless, there is enough in the film to make it worthwhile - Errol Flynn in the first half, Dorothy Malone in the second half, and this look into the sad endings to the lives of John and Diana Barrymore.
Antonius Block
Super Reviewer
Too Much, Too Soon Quotes
There are no approved quotes yet for this movie.