Too Late
(2016)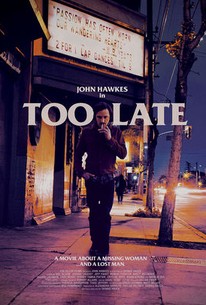 TOMATOMETER
AUDIENCE SCORE
Critic Consensus: Too Late pays homage to its genre inspirations affectionately enough to beg forgiveness for relying on them so heavily.
Movie Info
Private investigator Mel Sampson (Academy Award nominee John Hawkes) is tasked with tracking down the whereabouts of a missing woman from his own past. With this familiar setup, TOO LATE takes the spine of the classic private eye genre and tears it to pieces, weaving it back together into a tapestry of southern California and the menagerie of eccentric personalities and lost souls who inhabit it. From the desolate, overgrown Radio Hill to the ritzy penthouse of The Beverly Hilton, the film presents a sprawling view of Los Angeles that ranges from the undiscovered to the iconic. Ultimately, TOO LATE tells the story of a missing woman, but paints the portrait of a lost man.
News & Interviews for Too Late
Critic Reviews for Too Late
Audience Reviews for Too Late
½
This continously shot mystery is clever and a little too clever for its own good. The slow pace works for me, the film is very well acted and John Hawkes is incredible. The slow burning plot unfolds in pieces and when we learn the truth it has a strong gut punch moment that will linger after the credits roll. The camera technique is a gimmick that doesn't always work but it sets itself apart from films in the genre. I liked this quite like Brick many years before. The talent behind the film will move onto further projects and based on this impressive film, they will have a bright future.
Brendan O'Connor
Super Reviewer
I saw this at the Cleveland International Film Festival. It is perhaps the worst thing I have seen in the many years I've attended this festival and by far the worst thing I've seen screened at the Cleveland Cinematheque. This is Cleveland native Dennis Hauck first feature. He attempts to use the gimmick of five 20-minute uncut scenes to tell his story. He makes multiple references to cheap thrillers like Carnival of Souls from 1962. I was repeatedly reminded by the gratuitous nudity, drugs and violence, fundamentally gratuitous-Tarantino, that this feels like an over-inflated film-student film. The writing and way the actresses were forced to appear topless or obviously braless also reminded me of the trashy The Room by Tommy Wiseau and Fateful Findings by Neil Breen. The film does have John Hawkes as the private investigator in its favor (and probably one of the few reasons it got picked up by festivals). The non-linear plot used to cause disorientation, the at times sloppy camera work, and the mediocre to vapid supporting cast are not saved by some 35mm film purist bull.
Byron Brubaker
Super Reviewer
Too Late Quotes
There are no approved quotes yet for this movie.