Too Big to Fail
(2011)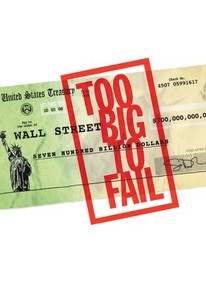 TOMATOMETER
AUDIENCE SCORE
Critic Consensus: Too Big to Fail has too sharp a script and superlative a cast to ever feel disposable, even when it teeters toward being an efficient explainer of recent history instead of a fully-realized drama.
Movie Info
Oscar-winning director Curtis Hanson (8 Mile, L.A. Confidential) adapts author Andrew Ross Sorkin's penetrating expose of the 2008 Wall Street financial crisis in this made-for-HBO docudrama featuring an all-star cast. As the U.S. economy hits the skids, Treasury Secretary Henry Paulson (William Hurt) finds himself caught up in a critical battle of wills between the key players on Wall Street, and the powers that be in Washington, D.C. With just weeks to go before the country plunges into the most devastating financial crash since the Great Depression, the powerbrokers on both sides scramble to pull the failing economy back from the brink of disaster. Ed Asner, Billy Crudup, Paul Giamatti, Cynthia Nixon, James Woods, Tony Shalhoub, and Topher Grace co-star. ~ Jason Buchanan, Rovi
Critic Reviews for Too Big to Fail
Audience Reviews for Too Big to Fail
It is 2008 and the stock price of Lehman Brothers is falling and CEO Richard Fuld(James Woods) is badly in need of cash and a sugar daddy. However, he rejects Warren Buffett's(Ed Asner) offer of $40 a share as an insult to his pride and his manhood. And then instantly regrets having done so because the stock price keeps falling, and a deal with a Korean consortium falls through. Just to add insult to bankruptcy, Treasury Secretary Henry Paulson(William Hurt) says there will be no government bailout this time, so Fuld had better work out something with all the other banks. "Too Big to Fail" is certainly a mixed bag. It gets off to a bad start, as it seems like we've walked into a movie that has already started.(Instead of the archival news footage during the credits, the movie should have instead gone with a Star Wars like scroll: "The empire's finances were beginning to crumble and Karl Marx was laughing in his grave.") And that's not to mention a pedestrian approach to the material and waiting until most of the way through before a discussion of the key issues. However, once it gets going, the movie takes on the form of a suspenseful political thriller at times. And it works having Paulson being the focal point of the movie as Hurt is very good in the role and it helps to have one center of attention with so many characters in play. On the other hand, Paulson, here does seem a little too good to be true, holding firm with sage advice from Ben Bernanke(Paul Giamatti, who almost steals the movie with only a bowl of oatmeal) and Timothy Geithner(Billy Crudup) and assistance from Paulson's Angels(Cynthia Nixon, Topher Grace, Ayad Akhtar & Joey Plotnick).
If someone wants to take a shortcut instead of reading the whole book, then this movie is a must watch.
Mohet Naidu
Super Reviewer
½
Too Big to Fail is HBO's effort to dramatize the financial meltdown of 2008. It features an amazing cast, including James Woods, William Hurt, and Ed Asner. All bring a lot of presence to their scenes, even when the script doesn't fully let them shine. We get a lot of moments of tension and good dialogue exchanges, but we also get awkward moments that feel grossly manufactured so as to deliver exposition. In that sense, it's far from Margin Call, a film that brilliantly conveyed tension and steaks with similar themes. At the same time, it's not boring, executed with enough polish to keep it consistently engaging. The politics of the film and the editorializing are rather bland, however, with a far too forgiving portrayal of Henry Paulson and Ben Bernanke, when the true origins of the crisis and ongoing turmoil are far more sinister and planned than what the film showed. But HBO was trying to keep it mainstream, so judged on that standard, it was successful, though not "accurate" in the truest sense of the word. 3.5/5 Stars Note: An excellent breakdown of the crisis can be found in the award-winning documentary, Inside Job.
Jeffrey Meyers
Super Reviewer
Too Big to Fail Quotes
There are no approved quotes yet for this movie.