Toni Erdmann
(2016)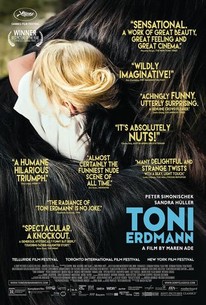 TOMATOMETER
AUDIENCE SCORE
Critic Consensus: Toni Erdmann pairs carefully constructed, three-dimensional characters in a tenderly funny character study that's both genuinely moving and impressively ambitious.
Movie Info
Winfried doesn't see much of his working daughter Ines. The suddenly student-less music teacher decides to surprise her with a visit after the death of his old dog. It's an awkward move because serious career woman Ines is working on an important project as a corporate strategist in Bucharest. The geographical change doesn't help the two to see more eye to eye. Practical joker Winfried loves to annoy his daughter with corny pranks. What's worse are his little jabs at her routine lifestyle of long meetings, hotel bars and performance reports. Father and daughter reach an impasse, and Winfried agrees to return home to Germany. Enter flashy "Toni Erdmann": Winfried's smooth-talking alter ego. Disguised in a tacky suit, weird wig and even weirder fake teeth, Toni barges into Ines' professional life, claiming to be her CEO's life coach. As Toni, Winfried is bolder and doesn't hold back, but Ines meets the challenge. The harder they push, the closer they become. In all the madness, Ines begins to understand that her eccentric father might deserve some place in her life after all.
News & Interviews for Toni Erdmann
Critic Reviews for Toni Erdmann
Audience Reviews for Toni Erdmann
So this is it, the big German comedy movie that even got Oscar nominated? Don't get me wrong, it has some really charming and funny parts. Others are just bizarre or drawn out way too long. While I despise the US tendency to remake foreign films, I can see a new version redeem some of that. There is no way the US film will have a similar sex scene or nude brunch. Amusing and unique, but also pretty weird.
Where do I begin with this film? The most important thing to know about this film is that it's almost three hours long and if you already have low-tolerance for lengthy films, Toni Erdmann will not be the one to win you over. That being said, this slow-moving drama is actually quite a little gem of a film. Filmed in Germany and switching back and forth between the German and English language quite often, it does beg the question of whether or not it should have been considered for best foreign film, especially when Lion is nominated for Best Picture, when a lot of the film is in Bengali. I guess it just comes down to the production and distribution of the film, but I still found it quite curious that there is a solid third of the film in English. Bizarre, weird to its core, and very off-beat, here are my thoughts on the Oscar-nominated Toni Erdmann. To put it simply, Toni Erdmann is about a man who has lost his dog, therein having nothing left in life, say for his daughter. Trying to reconnect with her by showing up unannounced and creating fictional characters to make himself laugh, as well as the others around him, certain scenes become quite uncomfortable and quite frankly, weird. The premise itself is unlike anything I have seen, so that isn't particularly where my faults of the film come into play, which I will get into later. From start to finish, this film kept finding new ways of being surprising. It also helped that these actors/actresses were all chosen very well for their respective roles, especially Peter Simonischek in the title role. When it comes to making a film that clocks in just under three hours, there are many elements that have to be in play. It needs to be able to hold your interest by showcasing some terrific characters, keep you engaged with an exciting premise, and make you feel like spending more time with these people. Unlike films like Gone with the Wind or Ben-Hur where it requires you to either gander at the spectacle or demand more time with their characters, is a film of great length that truly doesn't demand more screen time, or even multiple viewings. The biggest issue with this film is the fact that the story is dragged out far too much and quite honestly could have cut out about 40 minutes of its run time. The main character in Ines Conradi is focussed on too much while she is around work. I kept wishing the film would start to show more of the chemistry between her and her father, even though there is quite a bit. If you have already come to think this film is slight off-beat by the end of the first or second acts, then you will be in for a real treat towards the end of this picture. Throughout nearly the entire third act, Toni Erdmann consistently becomes much stranger. From naked company parties to having a weird creature appear, this film will continue to surprise you. There are moments when I felt the film was trying to be inventive for the sake of being inventive and it didn't really move the story froward, but it was still incredibly unique. Also, the way this film ends was bittersweet and it really does make you think, but it felt a little too abrupt for me. It may seem like I have been complaining about this film more than actually commending it for being original and inventive, but that it due to the fact that its run time is pretty tedious. The story itself, along with the characters and unique twists are all fantastic, making this a great film in the end, but it's not very re-watchable. Toni Erdmann is very well-written, well-directed, and you are able to buy into the fact that this is a weird man who hasn't seen his daughter in a long time, but it's just far too long of a film. If you are someone that can go into a film, ready for anything and willing to sit for almost three hours, then I believe you will appreciate the originality as much as I did. Overall, Toni Erdmann is a great film that deserves all of its recognition.
PRANKS FOR THE MEMORIES - My Review of TONI ERDMANN (3 Stars) Dogme 95 represented a cinematic style established by a cooperative of Danish filmmakers. Eschewing lighting, special effects and other symptoms of over-production, movies such as THE CELEBRATION concentrated on its actors and the dynamics between them. Typically such films would peel back the onion layers of relationships and expose something dark yet true. While sometimes producing great art, Dogme 95 became its own cliche when imitators basically interpreted their manifesto to simply include a lot of hand-held camera work and aimless storytelling. You know, the typical "Sundance indie". Luckily, Sundance and a whole crop of mega-talented filmmakers understood this, and we now see a wonderfully diverse cinematic world where even tripods and lights are used again! Yay filmmaking! Sure, low budgets often dictate how a film gets made, so I don't necessarily look askance at a Dogme-style film when I see one now, especially if the script blazes with ideas and surprises. Much of German born Maren Ade's TONI ERDMANN, a frequently hilarious, truthful, cringe-worthy exploration of a tense father-daughter relationship, transcends its Dogme approach, but at nearly 3 hours in length, good God, someone needs to tell this director when to stop! Meet Winfried (aka Toni Erdmann and played by Peter Simonischek), a music teacher who loses his students, his dog, and suddenly finds himself with a lot of time on his hands. Therefore, what a good decision he makes to spend more time with his daughter Ines (Sandra Hüller), an uptight businesswoman on assignment in Bucharest. We learn in the first few minutes that Winfried loves pulling pranks and donning disguises, often involving a terrible wig and false teeth. The opening sequence shows him keeping a delivery man waiting with a package, convincing him it may contain a mail bomb. Surprising his daughter in Romania, Winfried initiates a series of goofs, some silly, others a little more cutting, all in an attempt to lighten her up a little. You see, Ade may have a feminist agenda, but the cliche of women being "bitchy in the boardroom" reads loud and clear in the film. If only they would learn how to take a joke, right? Ugh. The basic premise of the movie started to wear me down, yet some wonderful, honest moments rang true. Simonischek and Hüller make a terrific team. It's the classic Buddy Movie setup but without the car chases, explosions, and homophobia. With TONI ERDMANN, we get one moment after the other in which we're embarrassed by the things our parents do. A scene in which Winfried, posing as his alter-ego Erdmann, tells Ines' boss that he pays someone to be his daughter since he sees so little of his own feels simultaneously funny and heartbreaking. We wait and we wait and we wait for the cracks to show in Ines'. Did I mention we wait? Yeah, this film just goes on forever, and many won't have the patience for the pretty amazing last act. It includes a truly fun nude scene, a memorable musical number, and let's just say a VERY hairy situation. These moments truly excel and show Ade's vivid imagination. Hüller in particular blazes through the last 30 minutes of the film, creating totally believable transitions while honoring the framework of her character. Too often in comedic films, the protagonist bursts out of their shell and you can barely recognize them anymore. Hüller remains Ines but tweaks her here and there so credibly. It's an astonishingly controlled performance. Simonischek, likewise, finds the heart and soul in a character so truly annoying on the surface. The interminable length of this film, however, turned me off to so much of what makes it potentially great. The endless pauses and repetitive nature of the first couple of hours would have benefited from a LOT of trimming. Ade forces us to live in Ines' discomfort, which, on paper, makes a lot of sense. Perhaps Ade deemed a shorter version would have felt too sitcom-like. She's clearly aiming for something deeper, which I admire...but if personalized fast forward buttons existed in movie theaters, I would have been riding that button so hard!
Glenn Gaylord
Super Reviewer
Toni Erdmann Quotes
There are no approved quotes yet for this movie.