Tokyo Story (Tôkyô monogatari)
(1953)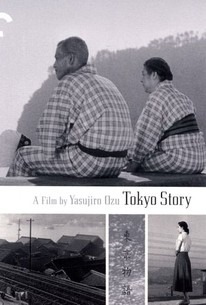 TOMATOMETER
AUDIENCE SCORE
Critic Consensus: Tokyo Story is a Yasujiro Ozu masterpiece whose rewarding complexity has lost none of its power more than half a century on.
Tokyo Story (Tôkyô monogatari) Videos
Movie Info
Originally Tokyo Monogatari, Yasujiro Ozu's Tokyo Story centers on a provincial Japanese family. The elderly parents and youngest daughter journey to Tokyo to visit their doctor son and his brood. Too busy for this onslaught of relatives, the callous, insensitive doctor packs his parents and sibling off to a resort, where they are unable to enjoy themselves due to the noise of the other tourists. The aging father locates some old drinking cronies, while the mother seeks out new friends. And so it goes, in Ozu's inimitable anecdotal fashion, until the tragic finale. A sensitive study of the frustrations and disillusionments accompanying the onslaught of old age (Ozu, incidentally, was only 51 at the time), Tokyo Story was completed in 1953, but not released in the U.S. until 1972.
News & Interviews for Tokyo Story (Tôkyô monogatari)
Critic Reviews for Tokyo Story (Tôkyô monogatari)
Audience Reviews for Tokyo Story (Tôkyô monogatari)
A moving, emotional story about a retired elder couple (Chishu Ryu, Chieko Higashiyama) who visit their children in Tokyo, only to be greeted coldly and as if they are not wanted, for unknown reasons. A tough, difficult, but ultimately frighteningly realistic portrayal of how parents are treated as being a "nuisance" as they get older, and how when their children grow up, they view them as a potential hindrance for them accomplishing and maintaining their adulthood. It is a slow-paced movie, very slow, but it is done so in order to show the importance of a long life lived well, in this case the parents of this family. The last half hour is heartbreaking and hits home for me concerning when I lost my grandmother rather suddenly and unexpectedly, so this film definitely has a piece of my heart concerning the topic of parents/grandparents and how we can sometimes, unfortunately and often unintentionally, not show them the love they deserve to have at all times.
Dan Schultz
Super Reviewer
A beautiful film about the ever-changing nature of life and a people on the mend after the cataclysm of World War 2. This exploration of life's unpredictability and the consequent generational discord is treated solemnly, but with a warm sense of understanding that permeates the screen. The characters are often distraught by the hand they have been dealt, but they seem to have an odd grasp of it. Pain and joy often come hand in hand and Ozu magically captures this push and pull between happiness and sorrow flawlessly. He also succeeds in making these grand statements about change, death, selfishness, guilt, generational disputes, and life's disappointing continuity, without feeling too didactic. On top of these qualities, the way Ozu plays with space is something I have never seen before. Even in the most intimate of places, we can become disoriented. Although we often take the same steps over and over again, life is always a labyrinth of constant change. Like Kurosawa's Stray Dog, Ozu also focuses on the oppression of the heat. From the kids worrying about how to get rid of the parent's burdensome visit, to the Grandparent's trip to a spa meant for a younger generation, each character clutches a fan, attempting to comfort themselves from the uncomfortable atmosphere. It is just one of the many symbols of a people trying to do what they can to cope with such a tentative existence. I can see why this film has been raved about over the many decades since its initial release. It's message is timeless, but the approach feels so fresh. It is an outstanding film and one that should not be missed.
I first watched Tokyo Story in a classroom some time ago and witnessed something curious. Is such a brilliantly devised movie though it takes more then 1 watch to fully get it the movie is no doubt one of the greatest in cinema. Tokyo Story takes a deep look at familial relations in post-war Japan. Simply, two aging parents live far away from their children, who are in a quickly modernizing Tokyo. The children in Tokyo are quite selfish and focused on their own busy lives in the hustle-and-bustle of the city. The key character in this film, though, is Noriko, the widow of one of the parents' sons who died in the war. Elderly couple Shukishi and Tomi Hirayama live in the small coastal village of Onomichi, Japan with their youngest daughter, schoolteacher Kyoko Hirayama. Their other three surviving adult children, who they have not seen in quite some time, live either in Tokyo or Osaka. As such, Shukishi and Tomi make the unilateral decision to have an extended visit in Tokyo with their children, pediatrician Koichi Hirayama and beautician Shige Kaneko, and their respective families which includes two grandchildren. In transit, they make an unexpected stop in Osaka and stay with their other son, Keiso Hirayama. All there children each trying to figure out what to do with their parents while they continue on with their own daily lives. Ozu Yasujiro is considered to be one of the world's greatest filmmakers and Tokyo Story is considered his masterpiece. There is no reason to deny this. Ozu's camera is often viewer to feel like they are sitting right with the characters. His films are also often slowly paced and meditative, choosing to avoid showing important events which later are revealed through dialogue. Ozu's direction of children has always been brilliant, they are never a weak point in his films and he often bases his stories on child characters (though not here). Tokyo Story will not appeal to everybody, especially today. The typical moviegoer will either dismiss the film because it is "old" or "black and white," or find it boring. To the cautious and attentive viewers who allow themselves to connect with the characters and feel the story, Tokyo Story is a rewarding experience. Tokyo Story, along with Ozu's other films, is a good example of film as an art. Aimed at telling a story and depicting true life on camera, it is much less of the "entertainment" experience that people have come to expect from the movies today. This is one of the greatest films ever made. Keiko's score 100% ( I did this review in class after watching it sorry if there are lots of errors I didn't have time to correct it as I was handing it in).
Tokyo Story (Tôkyô monogatari) Quotes
There are no approved quotes yet for this movie.