Tokyo Sonata (Tokyo Sonata)
(2009)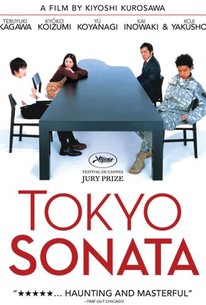 TOMATOMETER
AUDIENCE SCORE
Critic Consensus: J-Horror director Kiyoshi Kurosawa turns successfully to dramedy and gives a unique (and specifically national) perspective to the universal subjects of family and identity.
Tokyo Sonata (Tokyo Sonata) Photos
Movie Info
A typical household secretly teeters on the verge of collapse in this stark drama from director Kiyoshi Kurosawa. Businessman Ryuhei Sasaki (Teruyuki Kagawa) is the principal breadwinner of a seemingly happy family in Tokyo, with Ryuhei looking after his teenage sons, Takashi (Yu Koyanagi) and Kenji (Kai Inowaki), with his wife, Megumi (Kyoko Koizumi). But what Megumi and her children don't know is that Ryuhei is out of a job; his position was outsourced to a company in China, and he's too ashamed to tell his family the truth. Ryuhei leaves home every morning as if he's going to the office, but instead visits employment centers in hopes of landing a new job and eats lunch at a kitchen for the indigent. One day, while waiting for free porridge, Ryuhei meets an old friend who is in a similar predicament, Kurosu (Kanji Tsuda); Kurosu ends up bringing Ryuhei home for dinner so they can discuss their fictive day at work and maintain their subterfuge. Megumi, who is not as well-adjusted as she appears, one day spots her husband in a soup line while running errands, and discovers the truth about his employment status, though she doesn't dare confront him. And as Takashi and Kenji begin drifting away from their emotionally distant parents, Kenji starts to suspect things are not as they should be, and begins spending his lunch money on music lessons in hopes of starting a career as a pianist. Tokyo Sonata was an official entry at the 2008 Cannes Film Festival.
News & Interviews for Tokyo Sonata (Tokyo Sonata)
Critic Reviews for Tokyo Sonata (Tokyo Sonata)
Audience Reviews for Tokyo Sonata (Tokyo Sonata)
A genuine feel to this tearjerker about a family's descent and the audiences' hope that they will find some redemption and resurrection by film's end. I'm sure that this mirrors far too many stories.
John Ballantine
Super Reviewer
This is a very good movie, which unfortunately does not translate to being enjoyable. It follows the lives of a family - a father who has been made redundant, and is too proud to tell his wife, so leaves the house every day pretending to work, and eventually accepting a menial job as a cleaner secretly. The wife, who is actually onto him, having seen him queuing for food with the unemployed one day, but not wishing to admit she knows so he loses face. Their two children, one of whom signs up with the American army to get away from them all, and a little boy who is stealing his lunch money to pay for the piano lessons his parents would not let him take. This movie is painfully slow, and though beautifully done, is not an experience I would like to sit through again. Maybe it is a Japanese culture thing, because I pretty much felt like slapping the lot of them and screaming "Be honest!!". Thankfully, there is some hope for this family at the end!
Nicki Marie
Super Reviewer
½
[font=Century Gothic]"Tokyo Sonata" starts with a storm bearing down on Japan which blows all the jobs of the administration department away into China including that of its 46-year old director Ryuhei Sasaki(Teruyuki Kagawa) who packs up two shopping bags full of belongings before leaving. Eventually, he disposes of them, deciding not to tell his wife(Kyoko Koizumi). His old school pal Kurosu(Kanji Tsuda) is in the same boat but has honed his lying to an art form. At home, Ryuhei rarely sees his older son Takashi(Yu Koyanagi) while his younger son Kenji(Inowaki Kai) has taken a sudden interest in the piano.[/font] [font=Century Gothic][/font] [font=Century Gothic]With the exception of one sequence late in the movie, "Tokyo Sonata" is a subtle exploration of what it means to be unemployed in Japan, as jobs are leaving the country at a breakneck pace, affecting the managerial classes in inordinate numbers.(The people on the breadlines seem better dressed than I would normally expect.) None of this is their fault, just the system that has not given them any noticeable skills, just as it is not Kenji's fault that the big book of manga falls into his lap. These same people sit still or stand on lines while the rest of the world passes them by. But no matter how quickly the world moves, the important thing is to find your place in the new world.[/font]
Tokyo Sonata (Tokyo Sonata) Quotes
There are no approved quotes yet for this movie.