Together
(2001)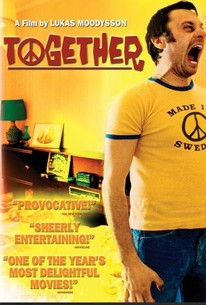 TOMATOMETER
AUDIENCE SCORE
Critic Consensus: Managing to be both satirical and warm-hearted in its look at the inhabitants of a commune, Together successfully captures the spirit of a time.
Movie Info
The second feature from Lukas Moodysson, who directed the internationally acclaimed Fucking Åmål, Tillsammans is the tale of life on a Stockholm commune in the mid-'70s. After suffering more than her share of abuse from her husband, Rolf (Michael Nyqvist), Elisabeth (Lisa Lindgren) takes her two children, Stefan (Sam Kessel) and Eva (Emma Samuelsson), to a commune run by her brother Göran (Gustav Hammarsten). Life at the commune is crowded with people with laid-back attitudes towards sex, nudity, and recreational drug use, prompting plenty of political debate. Göran's partner, Lena (Anja Lundkvist), is a particular proponent of free-spirited bed-hopping, something Göran doesn't really like but tolerates. Lena duly gets involved with the rebellious Erik (Olle Sarri) and finds fulfillment in the form of her first orgasm, something that leads her to confess to Göran that she was always faking it with him. Meanwhile, various dramas are at work amongst the other commune members, including the once-married Lasse (Ola Norell) and Anna (Jessica Liedberg) (who split up when Anna announced she was a lesbian) and Klas (Shanti Roney), whose advances to Lasse are continually rebuffed. The goings-on of the commune are observed and commented on by a pair of neighbors, Margit (Therese Brunnander) and Ragner (Claes Hartelius), whose marriage is so lackluster that Ragner masturbates compulsively. Their son, the fat and miserable Fredrik (Henrik Lundström), befriends Elisabeth's daughter, Eva, who longs to have a family again. When Rolf appears on the scene seeking reconciliation, it seems Eva may get her wish.
News & Interviews for Together
Critic Reviews for Together
Audience Reviews for Together
½
Surprisingly this film is more feel-good and heartwarming than anything, and yet also gives commentary on socialism, free living, and polyamory as well. The film covers family, love, and forgiveness, as well as opening yourself to new experiences so you can find new love. The film is actually set in a commune called Together (Tillsammans), where Goran lives with a bunch of other people and a woman he loves. His sister, Elisabeth, has a domestic disturbance with her husband for the first time in years, and immediately leaves, taking her children with her to live with her brother. The three fish out of water find themselves shoved into a small space and their lives are completely changed as the commune's inhabitants rub off on them and vice versa. While there are some political themes that run throughout the story and oftentimes speak volumes on the residents, it does not overpower the narrative or center around the characters. More often these political leanings only lead to absurd scenarios, including an intellectual who more oftentimes wants to argue rather than converse, a hippie dippy woman who stomps on hearts as well as promotes multiple partners, and several others who believe in the extremes of clean living and the liberal agenda. Most of the film relies on absurd personalities over political beliefs to find humor. We also look back to the father who was left, as he finds guidance from an outside source and tries to change in order to get back his family. Every bit of this film is feel-good, whether it is the man who gets rid of his toxic lover or the coming of age story of a young teenager finding love with the next door neighbor, every bit of this makes you feel happy and sweet. The ending is even happy, and though it pulls on heartstrings throughout, it never drags, never degrades its subjects, and doesn't become clichéd or schmaltzy.
Spencer S.
Super Reviewer
This is definitely a movie that sort of sneaks up on you because the characters slowly start to grow on you and the movie is well paced as it keeps getting better as it goes along and it ends at the right moment. The movie doesn't have a real story per se, just a collection of little subplots between the characters. Despite this, the movie never has any consistency or pacing issues. All the stories the movie tells are interesting and entertaining. I can't really complain about the movie, because, again, it may not start out like much but the movie really does grow on you with its charms and its satirical aspects. Just a great movie.
Jesse Ortega
Super Reviewer
Communal living, free-love and hippies from a uniquely Swedish perspective. Wonderfully nostalgic and, for director Moodysson, surprisingly sentimental.
Randy Tippy
Super Reviewer
Together Quotes
There are no approved quotes yet for this movie.