To The Wonder
(2013)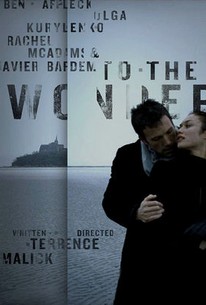 TOMATOMETER
AUDIENCE SCORE
Critic Consensus: To the Wonder demonstrates Terrence Malick's gift for beautiful images, but its narrative is overly somber and emotionally unsatisfying.
Movie Info
TO THE WONDER tells the story of Marina (Kurylenko) and Neil (Affleck), who meet in France and move to Oklahoma to start a life together, where problems soon arise. While Marina makes the acquaintance of a priest and fellow exile (Bardem), who is struggling with his vocation, Neil renews a relationship with a childhood sweetheart, Jane (McAdams). Bold and lyrical, the film is a moving, gorgeously shot exploration of love in its many forms. Written and directed by Terrence Malick.(c) Official Site
News & Interviews for To The Wonder
Critic Reviews for To The Wonder
Audience Reviews for To The Wonder
Beautiful to look at, but goes absolutely nowhere and takes forever to do it. Rachel McAdams is in it for about 20 minutes, so if she's your motivation to watch (which I hate to admit is the main reason I picked it up), choose something else. It's very open to interpretation as there is very little dialogue and it seems to have religion as a strong theme too which may not appeal to all.
Nicki Marie
Super Reviewer
½
Love according to Malick, and not really a character study but in fact a "director study" that feels like a direct follow-up to The Tree of Life, or a lyrical and extremely revealing self-portrait of a deeply sensitive man who is able to dive into sheer beauty but never into real passion.
Carlos Magalhães
Super Reviewer
½
"You have to struggle with yourself. You have to struggle with your own strength". Say what you will about the stylings of Terrence Malick. He's undoubtedly a director that puts his own stamp on things and refuses to tell a story in any conventional sense. He's more interested in capturing moments and subtle glances while pondering the larger themes of love, life and religious beliefs. When you back at his older works of "Days Of Heaven", "The Thin Red Line" or "The Tree Of Life", for example, you'll find these themes in abundance. From a personal point of view, I often find Malick's approach to be highly appealing but with "To The Wonder", I was left somewhat distant and uninterested this time around. Marina (Olga Kurylenko) is a Parisian single-mother who falls madly in love with tourist Neil (Ben Affleck) and moves with her daughter Tatiana (Tatiana Chiline) to America. Their love begins to dissipate, however, and Neil eventually seeks solace in his old friend Jane (Rachel McAdams) as Marina turns to Father Quintana (Javier Bardem), who is also exploring his own dwindling faith and confusion. Opening in Paris with the focus on Affleck and Kurylenko who obviously have a strong emotional engagement, we are guided through Malick's soulful exploration of love. We hear the internal dialogues of his characters as they strive for reason and understanding. Unfortunately, as a viewer, I too was searching for these things as Malick is so elusive and overly suggestive that it becoming increasingly frustrating and depressing as we observe hugely underwritten characters that do very little to grab your attention or even evoke any level of appeal or understanding. Malick's vision is certainly a beautiful one and his cinematographer Emmanuel Lubezki delivers some striking work. The camera pirouettes with long, sweeping movements that again capture Malick's ethereal approach. However, after about 20 minutes, you realise that it feels like you're watching a Chanel perfume ad and after several scenes of a cool breeze rustling through the cornfields and Kurylenko dancing her little cotton sock off under an autumnal sun, it's apparent that this all we're going get. The dialogue is sparse, to say the least, and there's more nibbling on earlobes than there is any actual verbal exchanges between the characters. Affleck, in particular, says very little throughout the entire film and is only required to stand around with his hands in pockets and brood. Rachel McAdams makes an appearance of another of Affleck's love interests but all she has to do is brush her horse's main on her Oklahoman ranch and let the wind blow her hair across her face from time to time. Our religious commentary comes in the form of Bardem's afflicted priest who has began to question his spiritual fulfilment. Is god still around us? Does such a entity even exist? Would relationships be easier if we felt more of his love and presence? Do we really care? It's not often I've find myself criticising Malick. Like I mentioned earlier, he's a director I greatly admire and "The Thin Red Line" is a masterwork in my eyes but this is strictly a colour by numbers effort that's seriously aloof and lacking in narrative. Some may revel in it's abstraction and ambiguity but, quite frankly, I found it to be tediously dull. As much as I love Malick's affinity with nature, I'd rather have watched the grass grow on this occasion. Not so much Wonder as Wander; Malick's latest existential elegy is meandering, pretentious clap-trap that surprisingly (from a former philosophical lecturer) has very little to say and it's entirely understandable why it was met with boos at the Venice Film Festival. Mark Walker
Mark Walker
Super Reviewer
To The Wonder Quotes
There are no approved quotes yet for this movie.