To Gillian on Her 37th Birthday
(1996)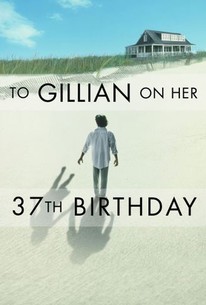 To Gillian on Her 37th Birthday Photos
Movie Info
In this emotional family drama, David's wife died two years ago, but her husband is unable to let her go. His daughter Rachel is devastated but able to cope. When David's sister-in-law shows up, she threatens to have Rachel taken away if David cannot stop being preoccupied with his loss.
Critic Reviews for To Gillian on Her 37th Birthday
Audience Reviews for To Gillian on Her 37th Birthday
Some movies are harmless and well-meaning enough to be enjoyable even if they fail to be "good" movies. To Gillian is not a "good" movie by the conventional standards and did not fair well with either mainstream audiences or critics. But, I like this movie. I like the relationships and some of the issues they attempt to address. There are a few moments of truth in this film. Plus, it takes place on Nantucket Island, which makes this movie very easy to watch. The beach, the moonlight, the gentle drama. This is a harmless movie that is worthwhile, even if it's not groundbreaking.
Mark Harper
Super Reviewer
½
When the best thing you can say about a film is that it has beautiful location filming you know the movie's in trouble. Gooey and too precious by half.
this movie is about a guy whose wife died and although she died two years ago, Gillian Lewis (Michelle Pfeiffer) is still very much alive for her grieving husband, David (Peter Gallagher who lives with his 16year old daughter on Nantucket island and spends time with his imaginary wife every night on the beach. His life has basically stopped and his concerned sister in law (with husband and blind date for Peter) show up for the Labor Day Weekend. this movie is touching and moving as it deals with the emotions of letting go of the past and those left behind.
To Gillian on Her 37th Birthday Quotes
There are no approved quotes yet for this movie.