Titanic
(1997)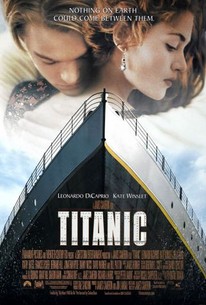 TOMATOMETER
AUDIENCE SCORE
Critic Consensus: A mostly unqualified triumph for James Cameron, who offers a dizzying blend of spectacular visuals and old-fashioned melodrama.
Movie Info
This spectacular epic re-creates the ill-fated maiden voyage of the White Star Line's $7.5 million R.M.S Titanic and the tragic sea disaster of April 15, 1912. Running over three hours and made with the combined contributions of two major studios (20th Century-Fox, Paramount) at a cost of more than $200 million, Titanic ranked as the most expensive film in Hollywood history at the time of its release, and became the most successful. Writer-director James Cameron employed state-of-the-art digital special effects for this production, realized on a monumental scale and spanning eight decades. Inspired by the 1985 discovery of the Titanic in the North Atlantic, the contemporary storyline involves American treasure-seeker Brock Lovett (Bill Paxton) retrieving artifacts from the submerged ship. Lovett looks for diamonds but finds a drawing of a young woman, nude except for a necklace. When 102-year-old Rose (Gloria Stuart) reveals she's the person in the portrait, she is summoned to the wreckage site to tell her story of the 56-carat diamond necklace and her experiences of 84 years earlier. The scene then shifts to 1912 Southampton where passengers boarding the Titanic include penniless Jack Dawson (Leonardo DiCaprio) and society girl Rose DeWitt Bukater (Kate Winslet), returning to Philadelphia with her wealthy fiance Cal Hockley (Billy Zane). After the April 10th launch, Rose develops a passionate interest in Jack, and Cal's reaction is vengeful. At midpoint in the film, the Titanic slides against the iceberg and water rushes into the front compartments. Even engulfed, Cal continues to pursue Jack and Rose as the massive liner begins its descent. Cameron launched the project after seeing Robert Ballard's 1987 National Geographic documentary on the wreckage. Blueprints of the real Titanic were followed during construction at Fox's custom-built Rosarito, Mexico studio, where a hydraulics system moved an immense model in a 17-million-gallon water tank. During three weeks aboard the Russian ship Academik Keldysh, underwater sequences were filmed with a 35mm camera in a titanium case mounted on the Russian submersible Mir 1. When the submersible neared the wreck, a video camera inside a remote-operated vehicle was sent into the Titanic's 400-foot bow, bringing back footage of staterooms, furniture and chandeliers. On November 1, 1997, the film had its world premiere at the 10th Tokyo International Film Festival. ~ Bhob Stewart, Rovi
News & Interviews for Titanic
Critic Reviews for Titanic
Audience Reviews for Titanic
James Cameron is by far one of my favorite directors, and this being his second highest grossing film is well worth all the money it got. The acting was very fantastic and the drama is also very well told, Leonardo Dicaprio, Kate Winslet, Billy Zane, Gloria Stuart, and even Bill Paxton all did fantastically well. Billy Zane was great as being the douchebag millionare that is betrothed to Rose, so well that you literally wanted to punch him. Also the 3 hour time run is actually very well done, and it doesn't feel like it, it feels like 2 hours, there were some things they could've left out, like the sex scene or the nude art drawing, I understand that its to prove the two main characters are getting much closer and truly love each other, but they could've just kissed passionatley and do a 360 camera spin. But overall, this to me is Camerons best, Avatar was just a ripped off story and just mindless action, but this was legitimate and good drama and acting
Michael Edwards
Super Reviewer
½
Benjamin Guggenheim: No, thank you. We are dressed in our best and are prepared to go down as gentlemen. But, we would like a brandy. "Collide With Destiny" Titanic is a movie I've seen countless times since I was a little kid and it came out. This movie is one that seems to polarize people to extremes. Some love it and will call it one of the best movies they've seen and others will hate it and label it one of the worst. As far as where I stand on it today, I still believe it is a very good film that benefits from marvelous special effects. Jack wins his way onto the Titanic in a poker game and runs into first class rich girl, Rose, when she is hanging off the end of the ship, apparently about to commit suicide. Jack saves her and they start spending a lot of time together, which really pisses off Rose's rich, but unpleasant fiancé, Cal Hockley. The story is told by the 102 year old Rose, as treasure seeker Brock Lovett searches for a diamond that was given to Rose by Cal on the boat. The movie has its share of problems. The dialogue, at times, can be corny, as can the actions. The acting, while serviceable most of the time, has some terrible moments, especially from Billy Zane and Bill Paxton. Also, the film suffers slightly from its long run time. It's not something that bothers me a great deal, but had the film been cut by something like 20 or 30 minutes, it would have flowed a lot better. Titanic isn't James Cameron's best film, but it is a majestic and epic one. I like Leonardo DiCaprio and Kate Winslet as Jack and Rose, and I also really liked Kathy Bates as a first class passenger that has just come into her money. This isn't one of the best films ever, but it's, at times, fun, sad, infuriating, and joyful. There's an emotional rollercoaster going on here.
Melvin White
Super Reviewer
I saw this on DVD for the first time in 2014 as part of a DVD binge weekend during 4 days of snow. I liked it because it has a real story--although in retrospect the poor rich girl who was going to kill herself because her fiance was too rich or too controlling was a little over the top, but this is from the perspective of a woman (me) who has lived all that drama decades ago. The sets were outstanding. Really captured the sense of what it was like to be trapped on a sinking ship --talk about being trapped between the devil and the deep blue sea. The class warfare was interesting. Still fighting that. Nit pick: why did Rose keep the multi-million dollar necklace? It was given to her by someone she hated and it was more like a handcuff. And then why did she dump it into the ocean--I got that it was supposed to close a chapter on her life, but it was the wrong symbol. And she has this granddaughter--did she ever think maybe the granddaughter could use a little help paying off her student loans? As I say, those are nit picks, It was a good movie.
Bathsheba Monk
Super Reviewer
Titanic Quotes
There are no approved quotes yet for this movie.