Till Human Voices Wake Us
(2003)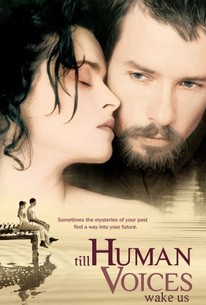 Till Human Voices Wake Us Photos
Movie Info
Young adolescent Sam Franks (Lindley Joyner) spends his summers away from school with his physician father (Peter Curtin), whose schedule barely allows for quality father-son time. Therefore, Sam idles away most of his time with neighbor Maurie Lewis (Frank Gallacher) and Maurie's handicapped daughter Silvy (Brooke Harman), who also happens to be Sam's best friend. One night following a dance, Sam and Silvy kiss for the first time, and go down to the nearby river. As the two are lazily floating in the river and watching the night sky, Silvy disappears underwater and her body is never found. Several years afterwards, an adult Sam (Guy Pearce) -- who has gone on to become a psychiatry instructor -- journeys back to the same town for the funeral of his recently deceased father. While en route, Sam encounters Ruby (Helena Bonham Carter), a mysterious young woman he is forced to rescue from the same river that Silvy had disappeared in. After bringing Ruby to his father's house to calm her down after the incident, Sam begins to feel a strangely familiar comfortableness with her and the two begin to visit all of Sam's and Silvy's old stomping grounds.
Critic Reviews for Till Human Voices Wake Us
Audience Reviews for Till Human Voices Wake Us
½
The idea is appealing, and the leads competent, but there's an obvious emotional deficiency in Till Human Voices Wake Us. Everything here is just too fluffy and metaphysical to have any real human weight to it, and though it probably read well on paper, the actual realization leaves a lot to be desired. Perhaps most telling is how the music cues seem to be working double-time to cover up the odd lack of feeling throughout the movie, as if the filmmakers weren't content to let the interplay between our actors stand on its own. Honestly, they were right, but no amount of swelling strings and orchestral heart-tugging could have fixed the fact that everything simply falls short. There's nothing wrong with a movie being slow, but this movie really needed to develop its characters well to work, a task at which it fails. Sam and Silvy just seem like two moony youngsters making doe-eyes at each other, and grown-up mustachioed Guy Pearce half-heartedly works through an expressive block through most of the movie. The 50/50 split between Sam's youth and his adulthood, where he's visiting his recently deceased father's estate, may be to blame for this. We learn that a past relationship has been haunting him all his life, a relationship which is underdeveloped and difficult to care about; in turn, since we don't know much about adult Sam either, it becomes similarly difficult to care about his path to redemption and acceptance. Really, the movie is a wash. If you view it as a sort of fable, or a metaphorical treatise on lost love and coping, then the results may be watchable. Other movies have done it twice as well, however, and I suggest you defer to Last Life in the Universe if this sounds even remotely interesting to you.
Drew Smith
Super Reviewer
A touching romantic ghost story.
Anthony Valletta
Super Reviewer
½
Supernatural/psychological/fantasy films need to abide by a set of thematic rules so that the audience can believe in their world. This film does not, which makes the entire thing ridiculously unbelievable, melodramatic, and choppy. Heard Australian version is told in linear form, not flashbacks, which may be better. I still love Guy Pearce.
Alice Shen
Super Reviewer
Till Human Voices Wake Us Quotes
There are no approved quotes yet for this movie.