Tig
(2015)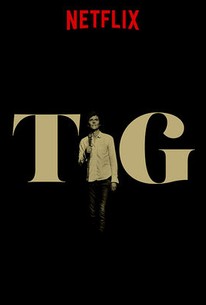 Movie Info
An unflinching documentary look at comedian Tig Notaro, who underwent a double mastectomy after being diagnosed with breast cancer in 2012, but has continued to tour rigorously while inspiring a new generation of survivors.
Audience Reviews for Tig
A good look at one of the coolest characters in stand up. Tig Notaro has found success in sadness and you can't help but appreciate her for her personal triumphs.
John Ballantine
Super Reviewer
½
I like to listen to stand-up, but haven't in a long time. I went through the typical college phase of listening not only to what was popular and current at the time (Dane Cook, Mitch Hedberg), but digging into my dads collection and getting to know the stuff he was into (mainly Eddie Murphy, but there was plenty of Steven Wright and Steve Martin in there as well). Over the last few years I've dabbled in some of the more popular stuff like Aziz Ansari, Louis C.K. and Bo Burnham, but haven't explored the current scene as much as I would like to. That is, until I started listening to the top comedy tracks inside the Spotify app on my phone. This led me to not only appreciate the variety of personalities and insight I was missing out on, but also served as an introduction to Tig Notaro. I didn't know much about Notaro or what her story was other than that I'd seen her in Lake Bell's 2013 directorial effort, In a World..., but I liked her stand-up almost immediately given the first thing I heard was her story concerning Taylor Dayne. This immediate affection wasn't necessarily because I'm also a fan of Dayne (though "Tell it to My Heart" really is just the best), but because it allowed Notaro to put herself in her place. She understands where she stands in relation to Dayne as far as the pop culture pantheon is concerned and in relaying this story of unironic fandom she became one of us by divulging a piece of information most might consider at least somewhat embarrassing and going even further by consistently being shameless in her approach to how much Dayne's music meant to her in her formative years. As I continued listening to more of Notaro's material it became evident from her two album discography that some major things had occurred in her life between the release of her first and second albums. And so, when I came scrolling across this documentary simply titled Tig on Netflix the other day, I was more than thrilled to have access not only to what was going through Notaro's mind at the time multiple crises were taking place in her life, but how she's been since and what she's been up to. read the whole review at www.reviewsfromabed.com
Philip Price
Super Reviewer
½
Some of the best documentaries simply tell obscure, inspiring stories about interesting people. The Maysles Brothers did it with "Grey Gardens," and Werner Herzog has made an entire career from it. In this same realm comes this new documentary from Netflix, about stand-up Tig Notaro. While she may not be a crackpot, or eccentric, we do get to delve into her psyche as she battles for her life, which is trying to kill her. Read more at http://www.bluefairyblog.com/reviews/2015/7/24/tig
Spencer S.
Super Reviewer
Tig Quotes
There are no approved quotes yet for this movie.