Under the Olive Trees (Zire darakhatan zeyton) (Through the Olive Trees)
(1994)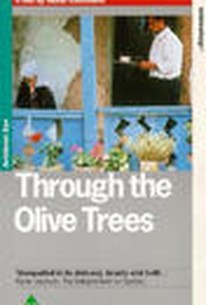 Under the Olive Trees (Zire darakhatan zeyton) (Through the Olive Trees) Photos
Movie Info
This Iranian movie about making movies wavers between a documentary and a fictional drama. It is the third in director Abbas Kiarostami's cycle of films that include Where Is My Friend's Home? and And Life Goes On. Like the others, this film is also set in northern Iran. An actor playing the director, tells the audience that he will be the only professional actor in the film. The Director selects a young woman, Tahereh, who was recently orphaned in the last earthquake to play the heroine. Mrs. Shivas, the non-nonsense assistant director keeps the actors on task and focused. She is especially picky about the appearance of Tahereh. Mrs. Shiva is assigned to prepare crew member Hossein to play the new hero. Trouble ensues because Tahereh has recently rejected Hossein's advances because he is poor and illiterate. She refuses to speak to him on camera or off. Hossein talks to the Director who subsequently changes the story; the two are now married. Hossein is a naturally gifted actor, but Tahereh cannot distinguish her role from reality and refuses to speak her lines. The Director changes the story again. ~ Sandra Brennan, Rovi
Critic Reviews for Under the Olive Trees (Zire darakhatan zeyton) (Through the Olive Trees)
Audience Reviews for Under the Olive Trees (Zire darakhatan zeyton) (Through the Olive Trees)
Kiarostami continues to prove us that he is a genius in the way he interweaves reality and fiction, and even if this third Koker film may feel a bit redundant when placed side-by-side with the other two, there is something absolutely unique about what he is trying to do here.
Carlos Magalhães
Super Reviewer
my least favorite of the trilogy is still great. the various layers, in jokes and reference to the previous films have become staggering by this time so don't approach without preparation (watching the other two films in the series)
Stella Dallas
Super Reviewer
Expressive and staggeringly touching.The process of film-making and the various interactions by the members/crew,job and personal issues altogether.A brilliant finale,worthwhile as one of 90's magnificent finales.
Dimitris Springer
Super Reviewer
Under the Olive Trees (Zire darakhatan zeyton) (Through the Olive Trees) Quotes
There are no approved quotes yet for this movie.