Såsom i en Spegel (Through A Glass Darkly)
(1961)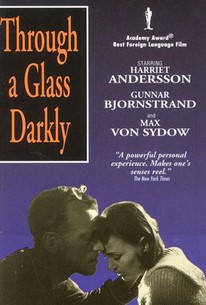 Såsom i en Spegel (Through A Glass Darkly) Photos
Movie Info
Set on a remote island, a schizophrenic woman is discharged from a mental hospital and recovers during a family holiday with her husband, brother, and father. Her father, who happens to be a prominent psychologist, coldly observes her and takes notes of her behavior without her knowledge. This Oscar-winning intense drama is the first in a trilogy of films by respected writer/director Ingmar Bergman. Following are: Winter Light and The Silence.
News & Interviews for Såsom i en Spegel (Through A Glass Darkly)
Critic Reviews for Såsom i en Spegel (Through A Glass Darkly)
Audience Reviews for Såsom i en Spegel (Through A Glass Darkly)
this was a decent film. near the bottom of my list for bergman films, really the whole trilogy is not among my favorites of his work. the acting was great and bergman got some wonderful shots. this movie was very slow however, and you really sort of miss the point until the last 30 minutes or so. a very simple film taking place on a single set, this film was made to convey a very simple point about hope and faith. the final scene is really great, and the move towards a more theater feel in bergmans work is interesting, but overall not among his best.
A gripping portrait of mental illness and family ties from a master director, and a film with a narrow focus and a cast of four (father, son, daughter, daughter's husband). Slow in the beginning but suddenly enrapturing, the stakes keep rising as we see the characters "mirror" each other's behaviour, frustrating each others' attempts at normal, intimate family relationships at every turn until we reach the harrowing conclusion. When I review, I prefer to get into specifics, but to me this is the kind of film that's probably better to go into blind, as it's full of surprises and subtle plot points that, while they won't look interesting in a summary - or an academic treatise, which one could easily write about this film - are captivating once you're into them. Watching it was an outstanding experience... I won't spoil it for you.
Daniel Perry
Super Reviewer
½
In a time so inundated with cinematic gimmickry, a filmmaker such as Ingmar Bergman would never succeed. Rather than fancy camera work, he relies on powerful framing and the story itself to move viewers. The first film in his faith trilogy is starkly austere. Bergman's characters emerge from the water and enter a world of isolation. Not only isolated on an island that is surrounded by the silence and the serene, but emotionally isolated as well. Gunnar Bjornstrand plays the career obsessed patriarch whose forced and shallow attempts at reaching out to his family are obvious to all . Max Von Sydow is the husband who goes through all the right motions, but seems rather emotionless toward the wife he claims to love. Finally there is Karin, played wonderfully by Harriet Anderson. Karin is deemed mentally I'll, but her real suffering comes from the lack of God's presence. This yearning, this malady, she is conscious of, which makes God's silence all the more unbearable. What makes things worse is that those closest to her are unable and/or unwilling to understand her. There aren't any major twists and turns, just an sincere look at the existence of a loving God. In doing so, Bergman conjures not only powerful imagery, but also almighty observations about human existence. We are so adroit at refining our lives and suppressing what we really feel, that we believe our lies to be truth. These aren't easy observations to swallow, but it is refreshing to know that a gifted storyteller like Bergman has tried. It may be a bleak glimpse of humanity but I'll be damned if I ever find a film more honest than this.
Såsom i en Spegel (Through A Glass Darkly) Quotes
There are no approved quotes yet for this movie.