Three Wise Guys
(2005)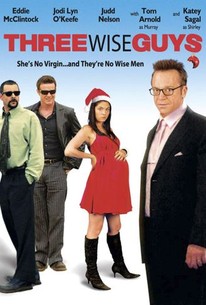 AUDIENCE SCORE
Critic Consensus: No consensus yet.
Movie Info
If Damon Runyon, the author of the story on which The Three Wise Guys was based, were to summarize it, it might sound something like this: One December day around Christmastime I am in the city of Las Vegas talking to Harry the Horse about this and that, when I hear this yarn about a citizen by the name of Murray Crown (Tom Arnold), who runs a clip joint which he prefers to call a casino. It seems that this Murray Crown not only has the John Laws breathing down his neck, but it is also a fact that he is married to this doll called Shirley (Katey Sagal), who is known far and wide as the green-eyed type. In addition, it seems that there is another doll by the name of Mary Ann Davidson (Jodi Lyn O'Keefe), who has gotten herself in the family way courtesy of Murray, and who has taken a powder into the desert holding a computer disk containing the low-down on Murray's operation. These being the conditions that prevail, sweet Mary could very well send Murray up the river for a more than somewhat long semester. So Murray hires these three torpedoes called Joey (Eddie McClintock), George (Judd Nelson), and Vincent (Nick Turturro) to chase after Mary and button the doll's lip on a permanent basis....By the time this made-for-TV opus has galloped into the home stretch, it is a probable twelve to seven that Mary will have wrapped the three torpedoes around her little finger, and that a Merry Christmas will be had by all. Mooched from a story by Runyon from which an earlier theatrical feature had been sired way back in 1936, Three Wise Guys first showed up on the USA network menu on the evening of December 8, 2005.
Critic Reviews for Three Wise Guys
There are no critic reviews yet for Three Wise Guys. Keep checking Rotten Tomatoes for updates!
Audience Reviews for Three Wise Guys
½
A goofy satire, Three Wise Guys delivers some festive holiday laughs. When the pregnant mistress of a Las Vegas casino owner runs off he sends three henchmen after her to bring her back, but she proves to be craftier than they expected. Featuring Eddie McClintock, Jodi Lyn O'Keefe, Judd Nelson, Tom Arnold, and Katey Sagal, the film has a pretty decent cast. And there are some fun allusions to the Nativity story, though a few of them are a bit contrived and cheesy. Also, the comedy is kind of hit and miss; getting a little too screwball and farcical at times. Yet despite its problems, Three Wise Guys is an entertaining film that has the Christmas spirit (in an odd sort of way).
Dann Michalski
Super Reviewer
½
Ehhh...it was pretty dumb. I wouldn't watch it again.
Sarah Prisbylla
Super Reviewer
Three Wise Guys Quotes
There are no approved quotes yet for this movie.