The Third Wheel
(2002)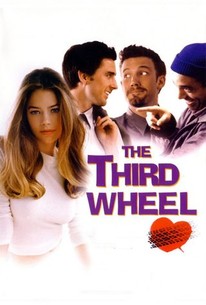 Movie Info
An unlucky-in-love bachelor lands his dream date, but finds that getting through the evening will be a difficult challenge indeed in this romantic comedy. The Third Wheel stars Luke Wilson as Stanley, a woefully inept young man who -- with the aid of his roommate Mike (Ben Affleck) -- works up the nerve to ask out his alluring co-worker Diana (Denise Richards). Diana agrees, but before the two can even be seated at a restaurant, they literally run into a homeless con man named Phil (Jay Lacopo). Currying pity from the hapless Stanley, Phil proceeds to disrupt the evening in every way imaginable. One of the first films from Matt Damon and Ben Affleck's production company, The Third Wheel languished on the shelf for more than three years; a similar, if less-severe, fate befell Wakin' Up in Reno, another Miramax-distributed comedy also directed by Jordan Brady.
Critic Reviews for The Third Wheel
Audience Reviews for The Third Wheel
½
The only thing they didn't have on their perfect date... was any privacy. Fun but mediocre movie! "The Third Wheel" is a cute movie. The screenplay has many flaws, but the charming lead couple and the situation of Stanley, with the whole office cheering for him and a stranger simply ruining his dreamed night is very sweet and funny. The story practically has no plot point, the film is far from being a masterpiece, but I liked it enough. The clumsy and shy Stanley is a nice fellow, beloved by his colleagues in the office. He has a crush on the gorgeous new-hire Diana, but he has difficulties to get close to her. When Stanley finally invites Diana for a date, he hits the homeless Phil with his Taurus and his planned night turns upside down.
½
"The Third Wheel was a lot of fun to watch. I wasn't really sure what it was going to be about, but seeing Ben and Luke on the cover I thought it couldn't be too bad. I was right. It was actually pretty funny. I laughed a lot. Jay Lacoop as Phil was funny. Luke had some good bantering as well. I even really liked Denise in this. I forget sometimes that she is a decent actress and not just the poor soul who married the 'Winning' Mr. Sheen. I liked Ben in this too. He is more of a side character, but still is funny in this. My favorite part is when he tries to get freaky with Melissa McCarthy on his motorcycle. This movie has the best ending credits. I loved it. If your in the mood for a laugh then give this flick a try. I would definitely watch this again."
♥˩ƳИИ ƜѲѲƉƧ♥
Super Reviewer
½
Sad to see such a good cast in such a terrible movie.
Daniel Dolgin
Super Reviewer
The Third Wheel Quotes
There are no approved quotes yet for this movie.