They Shall Not Grow Old
(2019)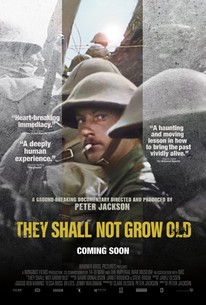 TOMATOMETER
AUDIENCE SCORE
Critic Consensus: An impressive technical achievement with a walloping emotional impact, They Shall Not Grow Old pays brilliant cinematic tribute to the sacrifice of a generation.
They Shall Not Grow Old Videos
They Shall Not Grow Old Photos
Movie Info
Peter Jackson directs this homage to the British troops of the First World War with never-before-seen-footage of soldiers as they faced the fear and uncertainty of frontline battle in Belgium. Digitally remastered and now in color, the footage has been studied by lip reading experts whose transcripts were recorded and used as audio for the film. Overlayed by a narrative of those who partook in the war from interviews made in the 1960s and 1970s, this historic revisiting marks one hundred years since the end of the Great War.
News & Interviews for They Shall Not Grow Old
Critic Reviews for They Shall Not Grow Old
Audience Reviews for They Shall Not Grow Old
I was actually a bit disappointed by this. The beginning is rather clunky, showing moving pictures as you know them from the early stages of film -making and a lot of commentary provided by survivors of WW1 back to back without pause. The moment the image suddenly gets wide and colored is fantastic and the technical feat of transferring all the material to modern viewing standards praise-worthy. Unfortunately the witnesses' commentary offering intrinsic details of every day life on the front can get tiring and hard to understand at times. There are too many voices, in too short an order and soon the images of the dead start to appear. You witness the horrors but you just don't feel it. Does this belong in history class as a deterrence against war? Absolutely. Does it offer anything new beyond the technical side? Not really.
½
Filmmaker Peter Jackson has performed a miracle and given voice and life back to the dead. His special effects technicians have taken World War One footage and cleaned it up, slowed the frame rate down, and made it a truly immersive experience that brings out the humanity of those who fought and fell. You see their faces, their movements, and their existence in a way like never before. It's remarkable to watch the difference in the century-old footage, allowing history to come alive. Jackson also has a running soundtrack of BBC interviews from the 1960s and 70s, where a collage of veterans recounts their experiences from many aspects of the war. It's wonderful to listen to their personal stories and insights from the men themselves rather than through some recreation or actor's reading. I could have listened to much more anecdotes from the men who lived them (the last WWI vet died only a few years ago; they're all wiped away now). There is nothing else to this 99-minute documentary other than the archival footage spiffed up and the synched interviews. Jackson')s documentary focuses on the British experience from jubilant, nationalistic start to weary, haunted conclusion. There is scant new insight into the Great War that a thousand other television specials and documentaries haven't covered, but it's the immediacy of the sights and sounds that makes They Shall Not Grow Old compelling. My screening was in 3D and I can't quite say it was worth it (the projector may have been improperly attuned, or it could just be the limitations of 100-year-old footage). Anyway, this is a must-watch for history buffs but there might not be much for your casual viewer to chew over. Nate's Grade: B
Nate Zoebl
Super Reviewer
Restored WW1 footage focuses on the British common soldiers' experience and brings dramatically alive a part of history nearly lost to the dustbins. What's seen is unforgettable and destined to be part of the required curriculum, a sober testament against how casually the expression "the horrors of war" is absorbed anymore. Peter Jackson takes care to linger on the faces of the youth given over to battle death, while the voices of survivors, those who were there, vocalize and remember what that horror was actually like. Necessary viewing.
Kevin M. Williams
Super Reviewer
They Shall Not Grow Old Quotes
There are no approved quotes yet for this movie.