There Be Dragons
(2011)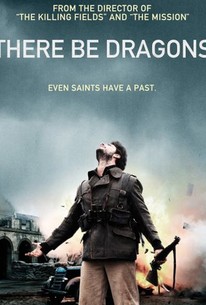 Movie Info
Tells the story of London-based investigative journalist Robert Torres (Dougray Scott), who visits Spain to research a book about Josemaría Escrivá (Cox), the controversial founder of Opus Dei. But Robert hits a wall, both professionally and personally, when his most promising source-his own father, Manolo Torres (Bentley), turns out to be his least cooperative one. Robert begins to unearth his father's toxic secrets when he learns that Manolo was not only born in the same Spanish town as Josemaría, but that they were childhood friends and attended the same seminary. The two men take radically different paths in life, with Josemaría dedicating his life to his faith while Manolo is swept into the brutal and tumultuous Spanish Civil War. Manolo descends into a dangerous and jealous obsession when the beautiful Hungarian revolutionary Ildiko (Olga Kurylenko) doesn't return his affections and instead gives herself to the courageous military leader, Oriol (Rodrigo Santoro). As Robert continues to unearth the secrets of Josemaría's life and Manolo's mysterious anger, their overlapping journeys are revealed with the truths and sorrows of their past choices, which compels Manolo to confront his own secret with one last opportunity of forgiveness. -- (C) Samuel Goldwyn
News & Interviews for There Be Dragons
Critic Reviews for There Be Dragons
Audience Reviews for There Be Dragons
½
In 1982, Roberto Torres(Dougray Scott) returns to his native Madrid to research a book about Josemaria Escriva(Charlie Cox). Luckily for Roberto, his father Manolo(Wes Bentley) still lives in the city. Unluckily for Roberto, they have not spoken in eight years. Regardless, Manolo sends him whatever relevant material he has, as he and Roberto were friends when they were growing up, even studying in the same seminary at one point. Once upon a time, writer-director Roland Joffe had a flair for historical epics when he made sweeping and excellent timeless films such as "The Mission" and "The Killing Fields." Sadly, that was a long time ago and with the exception of neat cinematography(credit to Gabriel Beristain), especially with Manolo coming into focus in a mirror, there is not much to like in "There Be Dragons," as it serves mostly as just a banal distortion of history. For example, in reality, the Catholic Church was on the side of the Nationalists in the Spanish Civil War, so at least they were not totally persecuted as shown here.(For the record, if somebody is too good to be true, they most likely are.) That's not to mention a dueling lumbering narrative that does little to advance the movie's central themes of forgiveness. Remember, some times you do have to take a side.
½
This movie had great potential, but I think that it must have suffered from poor editing. Visually speaking, it was very good...but, that wasn't enough to help the storyline endearing.
Cynthia S.
Super Reviewer
A great visual style, as you would expect from Roland Joffeâ(TM), but it ultimately lacks the narrative power of his better works, notably The Killing Fields. The production values and overall world building of civil war torn Spain was excellent, but the more modern storyline, to which the film often flashbacks to, was less convincing (especially the â~agedâ(TM) Wes Bentley), and often undermined the more compelling earlier story. I also felt the themes were a bit heavy handed, a symptom of an unpolished script, one that also features some stilted dialogue. Olga Kurlenko, for her part, was amazing, and was certainly the most compelling character of this historical epic. At the end, you have a lot of great set pieces and some good story elements, making it watchable, but certainly not without some problems. 3/5 Stars
Jeffrey Meyers
Super Reviewer
There Be Dragons Quotes
There are no approved quotes yet for this movie.