The Zero Theorem
(2014)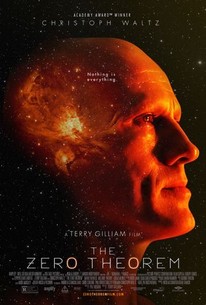 TOMATOMETER
AUDIENCE SCORE
Critic Consensus: Fans of director Terry Gilliam's trademark visual aesthetic will find everything they've bargained for, but for the unconverted, The Zero Theorem may prove too muddled to enjoy.
Movie Info
Terry Gilliam (Brazil, 12 Monkeys, Fear and Loathing in Las Vegas)'s madcap science fiction epic The Zero Theorem stars two- time Academy Award-winner Christoph Waltz as Qohen Leth, an eccentric and reclusive computer genius plagued with existential angst. Living in isolation in a burnt-out church, Qohen is obsessively working on a mysterious project personally delegated to him by Management (Matt Damon) aimed at discovering the meaning of life - or the complete lack of one - once and for all. Increasingly disturbed by unwanted visits from people he doesn't fully trust, including flirtatious Bainsley (Mélanie Thierry), Management's wunderkind son Bob (Lucas Hedges), his unpredictable colleague Job (David Thewlis), and would-be digital therapist Dr. Shrink-Rom (Tilda Swinton), it's only when he experiences the power of love and desire that he's able to understand his own reason for being. (c) Amplify
News & Interviews for The Zero Theorem
Critic Reviews for The Zero Theorem
Audience Reviews for The Zero Theorem
A solipsistic computer scientist is tasked to prove that humans' work amounts to nothing. Terry Gilliam's art department is on full display, but his skill as a story-teller isn't. The scene design pops, and Gilliam's frenetic future is both frighteningly possible and a visual feast. He moves the camera deftly but often, which seems contradictory. The story, however, is weird. Qohen's job looks like a video game with obscure math equations, and it only gains significance in the third act, and even then, the narrative has already been distracted by a ham-handed love plot that defies credibility (why is she apologizing and believing in the relationship when the previous scene involved his over-zealous advances?). It's all very pretty and confusing, which are the best two adjectives for Gilliam's work as a whole. Overall, some fun art direction doesn't save this weak story.
Jim Hunter
Super Reviewer
½
The production design is impressive, as well as the use of tilt shots and wide angle lenses to distort what we see, but still this is a silly and frustrating film whose interesting ideas get reduced in the same way that science is portrayed as a video game of fitting blocks.
Carlos Magalhães
Super Reviewer
The Zero Theorem has no objective to entertain with a coherent story. It's a vague rumination of a concept. The lack of specifics makes the disastrous beginning extremely hard to sit through. My consistent thought during the first half: What in the name of Egon Pearson is this movie about?! There are creative features of the society that do captivate. Robin Williams briefly appears on a billboard that promotes "The Church of Batman the Redeemer". Party-goers dance to music on their own cell phones instead of what's playing at the party. Terry Gilliam's world building is impressive. But look past those amusing gags and we're left with an inkling of an idea unable to support a compelling narrative. It recalls his brilliant Brazil in style but not in substance. The Zero Theorem is a thoroughly uninvolving exercise in abstract thought, and it's not even a very interesting one at that. fastfilmreviews.com
Mark Hobin
Super Reviewer
The Zero Theorem Quotes
There are no approved quotes yet for this movie.