The Woman in the Fifth
(2012)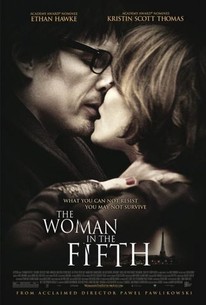 The Woman in the Fifth Photos
Movie Info
American writer Tom Ricks comes to Paris desperate to put his life together again and win back the love of his estranged wife and daughter. When things don't go according to plan, he ends up in a shady hotel in the suburbs, having to work as a night guard to make ends meet.
Then Margit, a beautiful, mysterious stranger walks into his life and things start looking up. Their passionate and intense relationship triggers a string of inexplicable events... as if an obscure power was taking control of his life. -- (C) Official Site
News & Interviews for The Woman in the Fifth
Critic Reviews for The Woman in the Fifth
Audience Reviews for The Woman in the Fifth
I have a dilemma in reviewing the Ethan Hawke vehicle "Woman In The Fifth"; for if I even begin to describe what takes place here I run the risk of possibly revealing something that may well be better left for another viewer to discover (or decipher) on their own. Even saying that is perhaps revealing too much, as suffice it to say, everything may not be what it appears to be with the film, and as it rests its hat on said ambiguity I cannot comment further. What I will say is that this film is very atmospheric, filmed in a style where the foreground is always in focus, while the background is often fuzzy. This point of view is overused in my opinion, though it does give you the sense that all is not quite right with what you are viewing. For me, the first 2/3 of the film are interesting and solid enough; it's just in the last third that the film somehow managed to be far too slow and yet felt rushed at the same time - quite a feat! It's as if director Pawel Pawilowski realized that the script had some serious holes and couldn't decide how best to camouflage - either by getting all artsy (hoping the audience would forget the holes) or racing past the potholes hoping the audience wouldn't feel the bounce. Now, I'm going to (kind of) reveal a spoiler here - the ending is totally predicable and hardly surprising, and for me at least, not the big payoff that Pawilowski was hoping for. For me I felt jerked around, even though the resolution was exactly what I expected it to be... it just felt too pat and, to be frank, amateurish. Too bad, for the story could have been compelling in surer hands.
paul sandberg
Super Reviewer
"The Woman in the Fifth" starts with Tom Ricks(Ethan Hawke), a university professor and one-time author, traveling to Paris to visit his six-year old daughter Chloe(Julie Papillon). Except his very estranged wife Nathalie(Delphine Chuillot) wants nothing to do with him, citing an exclusion order to call the police on him. Luckily, he escapes cleanly but is later thoroughly robbed on a bus, except for his passport and a stuffed giraffe intended for his daughter. Instead of going to the American embassy, Tom ends up at a flophouse where he cuts a deal with its manager, Sezer(Samir Guesmi), to keep watch from 10 pm to 4 am every night for 50 euros a night. This also gives Tom enough time to stalk his daughter, write and visit Margit(Kristin Scott Thomas), an interpreter. As a psychological drama, "The Woman in the Fifth" is decent enough by hinting more often than not. And it takes a chance by having a lead character rarely off screen who is unstable. This is in a Paris, absent of its usual landmarks in favor of graffiti, that consumes people whole from other countries, like Ania(Joanna Kulig), from Poland. Otherwise, there is not that much of a story, as the movie has a way of going around in circles before a plot twist that is so off the wall, considering the circumstances, that is past doozy into WTF territory. At the same time, it does sort of eventually fit in with rest of the movie's themes.
½
First "Elles," and now "The Woman in the Fifth." Two films made in Paris by Polish-born filmmakers in one year. And Joanna Kulig appears in both of them! Quite a coincidence. The good news is that Poland is finally appearing on cinema's world stage. More good news is that these two films are good and operate at quite a high artistic level. They're not great, but they are artistically ambitious. They aim high. In a year that is so far one of the worst in cinema history, this is a relief to see. When every other filmmaker is aiming low, it's especially satisfying to see two filmmakers aiming high. Thank you, Poland, for resisting 2012's trend of brainlessness and artlessness. "The Woman in the Fifth" is a portrait of madness. An American novelist (played by Ethan Hawke) arrives in Paris, struggling to make contact with his estranged wife and young daughter. It's never specified what happened, but the wife has a restraining order against the husband. She calls the police as soon as he shows up. The bulk of the film concerns his attempt to find an apartment in Paris, earn some money, and try to get visitation rights to see his daughter. He also meets a woman (Kristin Scott Thomas) and begins a passionate relationship with her. Then weird things start happening. His daughter is abducted and left in a public park. When she is found, Hawke is the prime suspect. Is he being framed, or did he do it? Does he have a Jekyll and Hyde type of split personality? Other eerie things happen as well, especially a whopper concerning Ms. Thomas's character. It's an intriguing, upsetting exploration of what it must feel like to lose one's mind. But ultimately it's not that satisfying. I didn't care about the characters as much as I would want to. At times the film feels like an intellectual exercise, but there are many moments of real feeling as well. It's not a masterpiece, but "The Woman in the Fifth" is a true work of art and has moments that are fantastic. It's one of the best films of the year so far.
William Dunmyer
Super Reviewer
The Woman in the Fifth Quotes
There are no approved quotes yet for this movie.