The Well-Digger's Daughter
(2012)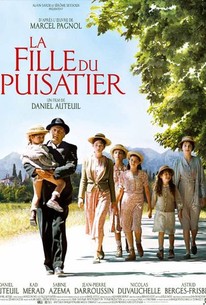 The Well-Digger's Daughter Photos
Movie Info
Twenty-five years after rising to international acclaim in Jean de Florette and Manon of the Spring, Daniel Auteuil returns to the world of Marcel Pagnol for his first work as director with this celebrated remake of the 1940s classic. Auteuil stars as the eponymous well-digger Pascale, a widower living with his six daughters in the Provence countryside at the start of World War I. His eldest, Patricia (the luminous Astrid Bergès-Frisbey), has returned home from Paris to help raise her sisters, and Pascale dreams of marrying her off to his loyal assistant Felipe (Kad Merad). But when she's impregnated by a wealthy young pilot (Nicolas Duvauchelle) who promptly abandons her for the frontlines, Pascale is left to contend with the consequences. -- (C) Kino Lorber
News & Interviews for The Well-Digger's Daughter
Critic Reviews for The Well-Digger's Daughter
Audience Reviews for The Well-Digger's Daughter
½
I really enjoyed the story of a proud man dealing with the shame of a daughter who winds up paying dearly for a single mistake. This was a well done film, with many tender moments as well as some that were hard to take. The pacing was deliberate, but never dragged, the characters were fleshed out and not merely caricatures, and the cinematography was sensuous. There was a lot to like here, although the ending dipped perilously close to smarmy.
Mark Abell
Super Reviewer
QUICK PREMISE: In 1940 France, a widowed-father with 5 daughters is torn between his sense of honor and his deep love for his daughter (who he thinks is an angel) when she gets in trouble with the wealthy son. What a love Felipe was! Felipe worked for the father digging wells, and seemed like an Uncle to the family, until Father got it in his head to marry off his 18-year-old daughter to Felipe, despite the fact that Felipe was 40-something. He didn't want his sweet daughter moving away from him, and Felipe seemed respectable and honorable enough. Father had the decency to insist he have his daughter's okay if this was to happen. SPOILER ALERT BEYOND THIS POINT... Daughter gently rejects Felipe, telling him she's fond of him, but not in love with him. While on a first outing (to her) date (to Felipe), she discovers, thru an introduction from Felipe, that the young man she met at the creek earlier is actually a pilot, and a wealthy one at that. Rich boy (Jacques) manipulates the situation to be alone with daughter, telling Felipe to go talk to so-and-so. He does. Then Jacques tells Daughter to pretend to go visit a make-believe Aunt when in reality, they meet. She says no, but then gives in. Thinking she's going to a cake shop, he brings her to his bedroom. !! They don't do the naughty, even tho he tried, and she runs away in tears, running back to Felipe. She needs to get home to meet her curfew, but Felipe's car breaks down. No problem. Jacques just happens to be buzzing by in his motorbike. Trusting Felipe asks his young friend to take her home on his motorbike. He does. But they make a stop in the meadow. Uh-oh... they THEN do the naughty, at her suggestion. !! It's okay, tho... she loves him. I suppose when you're 18, you can love this quickly. Anyway, Jacques gets sent off to war, having to leave that night. This means he'll miss his meeting with Patricia (okay, I'll stop calling her Daughter). He doesn't seem too moved. Is he a jerk or what? His saving grace is that he writes a note, and has his mother promise to go to rendezvous point and explain to Patricia that he had to be sent away, he didn't prior know when he, ahh... "had relations" with her, and to please deliver the note. I guess he's not a total jerk, but he seemed rather flippant. Mom goes, sees Patricia waiting by a beautiful church in another meadow (nice cinematography!). For some reason, Mom doesn't go to Patricia and explain, and she burns the note. I didn't know why. (later revealed... she wants her son to herself) (did anyone else get this at the time?). All I thought about Mom at this point was beeee-ahh-ch! Poor Patricia. Yep, she gets pregnant. She tells Felipe, who is remarkably understanding and non-judgmental, despite it being 1930's or 40's. She tells Papa. He hugs her, but then shuns her. Ooooh, the shame! What a slut. He has to do the honorable thing, and pays a visit to Jacques's rich parents, hoping Jacques will marry his daughter. Nope. Mom convinces her husband that it's just another case of a poor girl wanting to marry rich, and pleads with her husband not to listen. Rich husband seems more understanding, but for some reason, listens to beee-ahh-chy Mom. He tells them to leave. Of course, the father has to do the honorable thing and send Patricia off to live with his sister. I mean, imagine the shame when she starts to show? Patricia's younger sisters (one of whom is 4 years old) will see this slutty thing. And neighbors! Oooh, the shame! Tearfully but dutiful, she goes off. After that, all the daughters are not to mention Patricia's name. The BEST part of this movie was when 4-year-old calls her father nasty! You GO girl! Father is incensed when he learns that his daughter is using his last name for the bastard son. Enraged, he visits his sister and daughter in the country. He yells this and that. Patricia has no backbone and takes his abuse... what a dutiful daughter. Women shouldn't protest, right? But sister has spunk and in essence, tells him what an ass he is. Father sure seems like a jerk, grabs baby basket, and announces he's going to drown the baby, and runs to the river. Oh no! Women follow. (I personally think Patricia should have gone hysterical at this moment, a fault of either the screenplay or the director, or perhaps her acting?). Anyway, maybe she didn't have time to get hysterical, because Father puts baby basket down and demands to know why he's been there an hour and hasn't even looked at the baby yet. Maybe this is a French thing, I don't know. Maybe in France men can get away with acting like an ass, all hard and crusty on the outside where they're really soft and kind on the inside... aren't men wonderful in true reality?? Anyway, he sees his grandson, melts, and immediately wants this baby in his life. Okay, okay, Father is a good guy. Well, Jacque's rich parents want baby in THEIR life too, which is punctuated when they learn that Jacque's plane went down in flames. Jacque's rich father pays a humble visit to poor father, asking for his forgiveness, and can he please buy things for the baby (things poor father can't afford). It was here where I learned why rich Mom burned the letter her son wanted Patricia to see. She confessed, in tears. Okay, I didn't hate her anymore. Well, not quite. Poor father did, and refused them. So THERE! I would have liked to've seen Patricia react more when she learned that her love DIDN'T actually abandon her. I mean, this is monumental. But she's dutiful, remember?? SERIOUS SPOILER ALERT WARNING... Jacques isn't dead! He miraculously parachuted from his plane. It's a wonder the nasty Germans or Italians didn't capture him. But he returns, smoking his cigarette like a cool guy, despite the fact that he has pretty feminine features, and he's shorter than Patricia. He still acts like a flippant ass. I say this because he sees Patricia again after a year or two, and doesn't really even raise an eyebrow. What's with that??? But his parents have a happy fit upon his return, and their gloom and depression life. All is nice. Poor father, who's 56 and climbs in wells and even then refuses a dime from rich folks, is delighted when the rich family visits the poor family with intentions of making things right and having Jacques finally marry Patricia. Poor father agrees and forgives. All is wonderful... until... Patricia says she cannot marry smug Jacques if he's doing this out of shame and feels no love towards her. Finally, she grows a spine. Close-up on Jacques, and he's still looking like an ass, showing no expression. He does bow his head. Seems all he feels is shame. Seems there'll be no wedding. Sad. What an ending that would have made! But no, Jacques leaving the two families to take Patricia on a short walk. It's there he tells her he loves her. You don't see it, but he says it. I suppose this is good, but I still want to slap his chiseled face with the tiny nose and Mona Lisa smirk. But I loved this movie. I really did. You have to smile over the love poor father feels towards his grandson, and when rich family joins poor family, all over the baby boy. (tho it IS a little disgusting how it's implied that baby boys are really worth more than baby girls, you know). I liked the mix of emotions, and how characters weren't black and white, but complex, and often bouncing between right and wrong. From someone born about two decades after WWII, it's sad and shocking to see society's reaction to two young people doing a natural thing. I was born Catholic, so I can say I call this the "Catholic-Crap" thinking. My mother had it, where it's believed that if a daughter has sex before marriage, it's worse than if she stabbed someone. More shame in sex than stabbing.
½
I would be the first person to say that Daniel Auteuil has earned a right to direct a film with his long track record of superb performances. But why did he have to choose something as creaky, dated and melodramatic as "The Well-Digger's Daughter," itself a remake of a 1940 movie of the same name? Ostensibly it is about 18-year old Patricia(Astrid Berges-Frisbey) on the eve of World War II but it is not really since even when doing nothing Daniel Auteuil knocks the movie out of orbit just with his regal presence. Patricia faces limited choices in life between her sexist father Pascal(Auteuil), a well-digger, who complains endlessly about having six daughters and no sons, Pascal's assistant Felipe(Kad Merad) who covets Patricia for marriage despite his being middle-aged and balding and wealthy good-looking Jacques(Nicolas Duvauchelle) who pressures Patricia into having sex at the very least.(And who ever heard of an independently wealthy well-digger's assistant, anyway?) It is actually with Pascal's assent that Felipe is not only interested in Patricia but also a younger daughter. While you could maybe just write this off as a different time, in reality, there is no way this does not come off as plain old creepy which the movie fails to even acknowledge.
The Well-Digger's Daughter Quotes
There are no approved quotes yet for this movie.