The Week Of
(2018)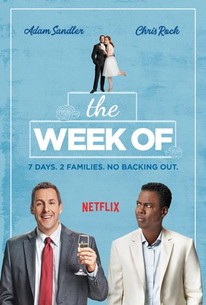 TOMATOMETER
AUDIENCE SCORE
Critic Consensus: The Week Of suggests promise in further collaborations between Sandler and Robert Smigel, but its shopworn premise and listless execution aren't enough to recommend it.
Movie Info
The comedy tells the story of two fathers who are polar opposites (Adam Sandler and Chris Rock) and the dysfunctional hilarity that ensues when their families come together to celebrate the wedding of their children. They are forced to spend the longest week of their lives together and the big day could not come soon enough.
News & Interviews for The Week Of
Critic Reviews for The Week Of
Audience Reviews for The Week Of
½
This wants to be so much more than it is. It's a fine enough premise for some dramedy, but it draws on and on and never really goes anywhere poignant or particularly funny.
Philip Price
Super Reviewer
½
The way Netflix had been progressing, in terms of subscribers and general popularity, in 2015 meant that, sooner or later, they'd be getting into producing (or buying the distribution rights at least) their own original movies and series. Streaming is really not even the future anymore, it's the present. The way we consume media has completely changed since Netflix exploded. I've had Netflix since it became available in my country in the summer of 2011. So, barring the five months I was without electricity as a result of a hurricane, I've had Netflix for almost 7 years now. And, even then, the streaming site wasn't as big as it ended up being. Having said all of this, it was only gonna be a matter of time until a major Hollywood star (bear with me here) would sign on with Netflix in order to produce original content for them. And that guy was Adam Sandler. This, really, was something of a genius move on his part. It allowed him to remain relevant in a rapidly changing world that was, finally, realizing that most of his films were shit and the financial success of his films were no longer guaranteed. I think people forget that, for a good strong decade there, Adam Sandler was a major box office draw. Don't ask me to explain it, because I can't. He wasn't Will Smith (or Chris Pratt, for a more modern example), but he was bankable and reliable. That started to taper off, naturally, and he made the movie to Netflix, realizing that his name didn't really automatically mean success anymore. Admittedly speaking, while I disagreed with Netflix's decision, I understood why they made it. Signing Sandler, I'm certain, had to have gotten some people to sign up for Netflix that wouldn't have done so otherwise. But that was in 2015. It's 2018 now and, given that Netflix has so much original content now, I wondered if the new subscribers he brought in were worth giving him that contract in the first place, since the novelty of his movies wore off with The Ridiculous 6 and how awful the movie ended up being. I don't wanna say that there was buzz surrounding that movie, but it was something to look forward to as an experiment. The Do-Over, another awful movie, did nothing. I haven't seen Sandy Wexler and The Meyrowitz Stories (which is a Noah Baumbach movie that FEATURES Adam Sandler). I plan to see the latter at some point, not sure about the former. Anyway, this brings us to the last movie on his current deal with Netflix, as far as I know. And out of the three Sandler original movies (again, I don't count Meyrowitz Stories since it isn't a Happy Madison production) on Netflix, by a country mile, this has to be the best of the three. I realize that this might not be saying much, considering that, as mentioned, The Ridiculous 6 and The Do-Over are both awful. The main criticism I, and many others, have thrown Sandler's way is that the movie his production company makes are made as paid vacations. He gets a group of his friends together, he goes to an exotic and/or beautiful location and they make a "movie". He even admitted as much in an interview with Jimmy Kimmel, I believe. The thing is that, honestly, Sandler CAN be a funny guy. His track record might not be great, but there's been moments where he made me laugh. It's just that he never puts in the effort to produce quality movies. He chooses to rely on tired gags, slapstick, dick and fart jokes, racist and gay panic humor, all the usual bullshit he's known for. While I'm not here to claim that this movie was good, because it's not, it's actually a surprisingly decent movie. Well, I mean, I guess I'll make that distinction as we get on with the review. I've always criticized the man's laziness, so credit has to be given where it's due. I must say that, thankfully, while the movie does come across like a series of skits connected by some semblance of a narrative, I feel like the movie makes some sort of an effort to tell this story of this humble man, who might not be rich, trying to give his daughter the best wedding possible. Well, the best wedding that is possible with his means. And there's heartfelt moments here, where Sandler's character realizes that he's doing all this because it's the last thing he'll ever get to do for his little girl. It's sweet, surprisingly. Of course, he has everything else to deal with, since everything during the week of the wedding seems to go straight to hell. His family and the groom's family all stay in his very small house. He has to deal with a leaking roof at the hotel he works at. He has to carry around his double amputee uncle around, while everyone in town thinks he's some sort of WW2 veteran. He tries to move the reception to town hall, as a result of the water leaking down to the ballroom of the hotel he works at. This ends up backfiring. There's so much shtick going on here that I can't really go over it all. But the whole idea seems to be to tell this story of these two very different families coming together and bonding with one another during the week of the wedding. And, you know what, I felt that it worked. Because, thankfully, the fact that the groom's family is black and the bride's family is Jewish, they never use those differences to drive the humor forward. There's some racial humor, for sure, like Kenny thinking that two random black guys in walking on the sidewalk are part of the groom's family. Honestly, that's about it for racial humor. Some of the stuff with Uncle Seymour, who's a double amputee as a result of diabetes, is a little insensitive, but some of it is actually pretty funny. Seymour dies and when they put the coffin in the hearse, some of the guys holding the coffin put it at an angle, so Seymour slides down. If you really think about it, it's probably a really mean-spirited joke, but it's one that is actually funny, well at least compared to every other attempt in the movie, at least in my opinion. There's also the relationship that is explored between the father of the bride and groom respectively and how Dr. C wants to pay his way through every trouble that Kenny has and Kenny's downright refusal to go with it, no matter how much goes wrong. I don't wanna say there's much character development, because there isn't, but what's there between the two is nice. Dr. C realizes that it's not too late to get involved in his children's lives, etc, etc. Films like this aren't unique, where the week (or days) prior to a wedding is manic and nothing seems to go right. Last example of this I saw was a Spanish movie called Ahora O Nunca (It's Now or Never on Netflix) and that was better than this. But, again, the point is that it's not a unique take and, while there's some craziness here, it's not as consistently entertaining a movie as Ahora O Nunca. Honestly, I felt that one of the biggest problems this film faced was the fact that the comedy was just a little lacking. They certainly attempt some jokes, but it's just that they miss as much as they hit and the hits themselves aren't that exciting. I already mentioned the coffin bit with Seymour. There's one inspired bit with the bachelor party at the trampoline park with the strippers, where they just cut off the music (as a result of trying to avoid triggering Noah, who has been allowed to leave the institution for a week with some guidelines) and they just tell the strippers to keep on dancing anyway. The bit is silly, but seeing the strippers trying to dance and look sexy without music and the awkwardness behind it all made me chuckle. The bit with the bats in town hall was also inspired. But that's about everything that comes to mind at the moment. The second biggest problem is, to me, the pacing. Honestly, can anyone tell me, for what fucking reason, that this movie is almost two hours long? While I get the idea, maybe, is that everything goes so wrong during this week that it ends up feeling twice that, but I feel that they could have accomplished that same thing in 100 minutes (with credits). I have to give them credit where it's due, but I also have to question the decision to make the movie as long as it is. It's Netflix, there's no filter. No one's telling you to trim a movie down if you don't want to. Obviously, you don't want a 2 hour 20 minute epic on your hands, but since this movie isn't shown in theaters, you don't have to worry about making your movie short enough to get in as many showings in a day as you can, but still. There's such a thing as pacing and, honestly, a lot of the first part of the movie is just dead because of this. It takes forever to set everything up and the movie suffers because of it. I did like seeing the scenes where the two families interacted together, like Isaac's baseball game. The scene, as a whole, might be a little pointless, but it's meant to show you how these two families are bonding with one another much more than you would have expected. But, for example, Seymour's dying (while it did lead to one of the funniest jokes in the movie, in my opinion) brings about a funeral scene that goes way too long and the punchline of which is everyone falling asleep during the proceedings (as a result of the bachelor and bachelorette parties the night prior). Yes, that's really the punchline. Well the punchline is all of these people, who are falling asleep, wearing this nose strip that, apparently, keeps you from snoring. Casting is solid enough. Sandler himself has his obnoxious moments, he can't seem to avoid them, but, by and large, he plays a likable man who's just trying to do his best for his firstborn and her wedding day. And, the best part of this movie, IT ISN'T POPULATED BY SANDLER'S USUAL CAST OF UNTALENTED ASSHOLES. I mean Steve Buscemi is here and he's a Sandler regular, but he's so fucking good at everything he does that I don't really count him as one of Sandler's friends. Chris Rock is solid here as well and he's really the only one of Sandler's friends who (outside of Buscemi and MAAAAAYBE Spade) has managed to have a career of his own. The rest of are has-beens and never-was hanging on to Sandler's nuts for dear life. Kevin James and your Netflix comedy special, I'm looking at you. Oh and Rob Schneider's awful Netflix show, you're the worst offender in this. Schneider is a no-talent jackass that would have been forgotten if it wasn't for his friendship with Sandler. That's neither here nor there, the point is that the movie is actually populated by a solid cast trying to do the best with what they got. The script isn't great, but it's better than what Sandler usually comes up with. Even with the fact that I found the movie to be longer than it needed to be and inconsistent with its comedy, I'd still say that this was a surprisingly decent movie. And I'm not being generous because it's a movie where Sandler seems to make some sort of an effort, I really do mean that this was a decent enough movie all things considered. Its heart is definitely in the right place and I liked the approach to the two families getting together. It's not focused on the differences and trying to find a way to exploit that for laughs. It's focused on the positives of these two families coming together as one and bonding with each other. Growing closer in the process. It might sound a little corny and the movie is a little sentimental in parts, mostly relating to Kenny's relationship with his daughter, but I felt that it wasn't forced. I certainly can't recommend the movie as a result of the flaws I mentioned, but this is the best Sandler produced live-action movie in years, bar none. Decent stuff right here.
Jesse Ortega
Super Reviewer
The Week Of Quotes
There are no approved quotes yet for this movie.