The Way Back
(2011)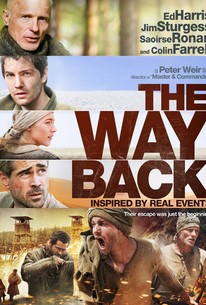 TOMATOMETER
AUDIENCE SCORE
Critic Consensus: It isn't as emotionally involving as it should be, but this Peter Weir epic offers sweeping ambition and strong performances to go with its grand visual spectacle.
Movie Info
Directed by six-time Academy Award (R) nominee Peter Weir, THE WAY BACK is an epic story of survival, solidarity and indomitable human will. Shot in Bulgaria, Morocco and India, the film stars Jim Sturgess (Across the Universe, The Other Boleyn Girl), Ed Harris (Appaloosa) and Colin Farrell (In Bruges) as prisoners of a Soviet Union labor camp, who, along with four others, flee their Siberian Gulag and begin a treacherous journey across thousands of miles of hostile terrain. Academy Award (R) nominee Saoirse Ronan (Atonement, The Lovely Bones) and Mark Strong (Body of Lies, RocknRolla) co-star. Written by Weir and Keith Clarke, the film is Peter's first since 2003's Master and Commander: The Far Side of the World. It is inspired by the acclaimed book The Long Walk: The True Story of a Trek to Freedom, as well as first-person accounts and anecdotes as told to, and researched by Weir and executive producer Clarke. Produced by Joni Levin, Peter Weir, Duncan Henderson (Master and Commander: The Far Side of the World) and Nigel Sinclair (Terminator 3: Salvation), THE WAY BACK is an Exclusive Media Group, National Geographic Entertainment and ImageNation Abu Dhabi presentation and an Exclusive Films production. Keith Clarke, John Ptak, Guy East, Simon Oakes, Tobin Armbrust, Jake Eberts, Edward Borgerding, Mohamed Khalaf, Adam Leipzig, Scott Rudin and Jonathan Schwartz are Executive Producers. The film's Co-Producer is Roee Sharon Peled and Co-Executive Producer is Alex Brunner. Weir has assembled an accomplished group of filmmakers with whom he has previously collaborated, including Academy Award (R) winning Director of Photography Russell Boyd (Master and Commander, The Year of Living Dangerously, Gallipoli), Film Editor Lee Smith (Master and Commander, as well as The Dark Knight, for which he received an Academy Award (R) nomination), Production Designer John Stoddart (Fearless, The Mosquito Coast) and Costume Designer Wendy Stites, Oscar (R) nominated for Master and Commander and with credits on nine Weir films. -- (C) New Market Films
News & Interviews for The Way Back
Critic Reviews for The Way Back
Audience Reviews for The Way Back
This film about escape and survival during WW2 is beautifully filmed and comes with an impressing cast. The problem is that it consists only of people walking. That's never boring, but really slow. Even though the gorgeous landscapes change and there are interesting problems between freezing and starving to solve, not all that much happens. It's most certainly an intentional decision by the filmmakers to make the audience feel as exhausted and worn out as the protagonists by the end of the film. But even with the long running time the ending comes somewhat from out of nowhere. Still, worth seeing for the impressive landscapes alone.
MisterYoda ?
Super Reviewer
½
Peter Weir is a fine filmmaker and he has crafted some truly terrific films. His work is truly engaging. He always manages to assemble great casts that feature prominently in his films. This is a strong effort with a great story and terrific talent involved. I much preferred this film over Master & Commander and it is a movie that is one of the finer directorial efforts from Weir. The cast make the material work well enough from start to finish. Based on true events, this film is a standout tale of survival in the harshest of times and can make it through with perseverance and determination. This is a great film from the first moment and if you love these types of movies, then give it a shot, you'll surely enjoy it. The Way Back is one of Peter Weir's strongest efforts and it is a movie that delivers some genuine tension and excitement. All of the cast members bring something unique to the screen, but it is Weir's eye to create a story worth telling that sets this picture apart from others in his filmography. I thoroughly enjoyed the film and if you love a good survival story, then this is the film to watch. Peter Weir has made some fine movies in the past, but The Way Back is a movie that is a brilliant return to form to what he used to do and he delivers something truly memorable and almost flawless in terms of storytelling. Weir is a fine filmmaker and with this film he proves that once again. With a great script and cast, Peter Weir was able to craft a movie that is thrilling from start to finish.
The Way Back Quotes
There are no approved quotes yet for this movie.