The Way
(2011)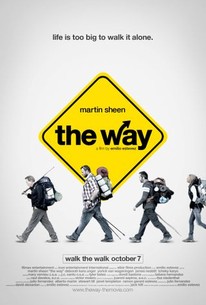 TOMATOMETER
AUDIENCE SCORE
Critic Consensus: It may be a little too deliberately paced for more impatient viewers, but The Way is a worthy effort from writer/director Emilio Estevez, balancing heartfelt emotion with clear-eyed drama that resists cheap sentiment.
Movie Info
The Way is a powerful and inspirational story about family, friends, and the challenges we face while navigating this ever changing and complicated world. Martin Sheen plays Tom, an irascible American doctor who comes to St. Jean Pied de Port, France to collect the remains of his adult son (played by Emilio Estevez), killed in the Pyrenees in a storm while walking The Camino de Santiago, also known as The Way of Saint James. Rather than return home, Tom decides embark on the historical pilgrimage to honor his son's desire to finish the journey. What Tom doesn't plan on, is the profound impact the journey will have on him and his "California Bubble Life". Inexperienced as a trekker, Tom soon discovers that he will not be alone on this journey. -- (C) Icon
News & Interviews for The Way
Critic Reviews for The Way
Audience Reviews for The Way
It's nothing short of sensational. A deeply intimate, vastly original and personal piece of work that's spiritual and breathtaking. A truly heartfelt, spirited and wonderfully engaging movie. It's deeply moving, very funny and absolutely gorgeous in its craft and use of scenery. Director, Emilio Estevez takes full advantage of his cast and locations and brings out the best of everybody. A real triumph. Esteves and Sheen strike gold, the father-son duo make this picture worth while. Martin Sheen is superb, he gives one of the best performances of his entire career. Deborah Kara Unger is fantastic. Yorick van Wageningen is wonderful. James Nesbitt is terrific. They have wonderful chemistry together. This film delivers great laughs, beautiful scenery and top-notch performances. It's such an excellent and outstanding movie. It shines with humanity and beauty.
Written and directed, and briefly featuring an appearance by Emilio Estevez, this is a moving and heartwarming indie drama (with a fair amount of levity) about one man's quest to find meaning in life. Estevez directs his father Martin Sheen as a grumpy and irascible opthamologist named Tom who has hit a crossraods in his life. He's a widower, and somewhat estranged from his free spirited adult son Daniel. After Daniel is killed in the Pyrenees Mountains, Tom travels to France to bring his son's body home. Daniel had been in the proocess of walking the Camino de Santiago, aka The Way of Saint James, a historic religious pilgrimage route spanning from France along the coast of Spain to the Atlantic Ocean. Feeling a strange compulsion, rather than return home, Tom has Daniel's remains cremated and sets out, despite his inexperience, on a quest to finish the trek his son started as a way of honoring his memory and trying to shake his own life out of a rut. Along the way, Tom unwittingly finds himself making the 800 KM (or so) trek with a motley band of colorful characters from all over the globe, each one, like Tom, with their own personal issues and diverse reasons for hiking "The Way". This movie is so sincere, well meaning, and earnest that you really feel bad saying anything negative about it. Yes, there's lots of cliches, and many of the characters are just moderately fleshed out archetypes, but it's the performances, especially that of Sheen, that really hold this film together and make it worthwhile. Well that, and it helps that the film was shot entirely on location along the actual Camino de Santiago, with all of the non speaking trekkers and extras being actual pilgrims making the trip. I really loved that aspect of the production, because the locations and cinematography are absolutely gorgeous, the level of authenticity is really high, and you get a real sense of the sincerity and genuine labor of love that the project is. That's also probably to the credit that it's an indie affair, instead of a mega budget mess. The low-key aspects to everything make it more appealing special. The film does meander at times, and the pacing is pretty leisurely, almost as if they are trying to force the viewer into making the trip themselves, and some of the music cues are rather trite and on the nose. However, the actual score is really nice, and it surprised me since it was done by Tyler Bates, most known for doing the music for many of the films by Zack Snyder and Rob Zombie. It actually works really nicely though, and it was an enjoyable surprise. Another thing about this movie that really scores points with me is that, not only is it a road movie/travelogue sort of thing (which I absolutely love), but it's also the type of road movie where the journey is more important than the destination, something I also love and a sentiment I believe in personally. All in all, the film is somewhat typical of road movies and moving, heartwarming indie character dramas, but it is pretty well made, strongly acted, and a fair way to spend a couple of hours. Who knows, maybe this will inspire people to actually embark on "The Way" for themselves.
Chris Weber
Super Reviewer
A father sets out to mourn and honor his dead son, attempting to make peace with their troubled relationship by walking in his footsteps. The writing doesn't go very far with the internal journey the father must take, which is disappointing. Instead, it fills the movie with contrived characters and scenarios - it's almost a Wizard of Oz story, where each traveler who joins him is missing an essence of themselves and they think they will be fixed by the end of the pilgrimage. But these tag-a-long characters were too fabricated to be emotionally engaging.
Matthew Slaven
Super Reviewer
The Way Quotes
There are no approved quotes yet for this movie.