The Warning (El aviso)
(2018)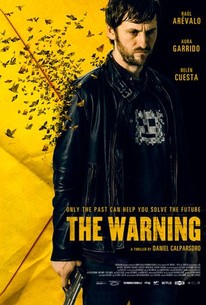 The Warning (El aviso) Photos
Movie Info
Jon is a young man with a gift for mathematics and an obsession for numerical logic. He is a genius, but lost out on a promising scientific career because of his schizophrenia and had to settle for a job in a copy shop. One night, Jon and his friend David go to buy drinks at a gas station. David enters while Jon waits in the car. Just then, a robbery goes down and a bullet leaves David in a coma. Jon stops taking his medication and, overcome with guilt, he becomes consumed with finding some meaning in the killing of his friend. He investigates past attacks until he comes across the mathematical pattern they follow. Based on this, he deduces that, in nine years, the next victim will be little Nico, unless he manages to get a warning to the boy....
Critic Reviews for The Warning (El aviso)
Audience Reviews for The Warning (El aviso)
½
You know, I often wonder, in the case of movies with a decent enough concept, how long it's gonna be before an American film company buys up the rights to make a remake of it. Though, if I'm being fair, and I may have mentioned this in a prior review, while there's still definitely a fair share of remakes coming out from American film studios, I don't think they're as bad as they used to be around ten years ago. Maybe that's just me. But, anyway, I'm sort of expecting some film company to buy the remake rights to this movie. And it doesn't really even matter if the film is good or not, just if the concept is good. And, if I'm being honest, while this film certainly has a compelling concept and, overall, it's a decent movie, I never felt that it adds up to a good movie. In some regards, it reminds me of this gem of a movie called The Incident. What I mean by that isn't conceptually, since The Incident looks at an infinite time loop where the characters have to learn the mistakes of their past actions in order to move on, whereas this is more a film about atonement through reincarnation. What I mean is the fact that this is a movie with ideas normally reserved for sci-fi films, but this movie executes that without relying on CG or any type of computerized effect. It's all dialogue and storytelling. Though, in my opinion, unlike The Incident, this feels more like a thriller than a sci-fi film, it's just that some of its themes are reserved for that genre. The concept, basically, boils down to Jon (after his best friend is shot in the head while at a gas station) uncovering the mystery behind this location. Where, every so often, the same exact thing happens as happened to Jon's friend. There was a shooting in 1976, 1955 and 1913 (where five people died, instead of one in the next two incidents) in the same place (at the same date, April 12) with the same number of people (five), all being the ages of 10, 21, 32, 42 and 53. Jon, however, is revealed to be a schizophrenic, so they plant the idea in your mind that all of this is in Jon's mind. They plant the idea on your mind, but it's not like they actually do anything with it since, at any point, do you believe that Jon might be making all this up. That's a fault on the movie's side, since they just don't do a good enough job at making all of this completely convincing as an alternate theory as to what's going on. Every time this incident at the same location has happened someone of a different age (from those mentioned above) has died. There's only one age left to die and that is, of course, a 10-year-old kid, so the movie deals with Jon figuring all things out and trying to warn a kid that may have been born on April 12. This is the alternate story, where you see Nico dealing with bullies, a shitty mother and being sent a warning (by Jon, using the owner of the gas station who meets the kid 10 years after the last shooting) to not go to the gas station on that particular day. The reason I bring up his shitty mother is the fact that, since her son is deathly afraid to go to the gas station on this day, basically FORCES him to go to the station. It's like, really? It's not like he's afraid of going to the gas station all the time, he just doesn't want to go THAT particular day (April 12th, his birthday). To the point that he actually has one of his close friends hid him in her mother's car. That's how AFRAID this kid is to go to this gas station. What does his mother do? Instead of, you know, listening to her son and doing what she wants for his birthday, she just has to prove the point that she's the adult and basically forces her kid to enter this station. And, again, I get the point of what she's trying to do, she's trying to get him to confront his fears. But ONE DAY that he doesn't go to the gas station, that he goes to all the time anyway, is not gonna hurt him. His mother basically put her son in danger and, honestly, it's just not good storytelling to me. It strains credulity to believe that this mother would be so stubborn that she would force her son to do something that clearly terrifies him just to prove a point. And it's just this one day, since he only turns 10 once. It's not gonna be the type of thing that happens every year on his birthday. It's just the one time. I don't know, this really annoyed me because, honestly, it's just not good storytelling. And, in my opinion, the problem with the movie is, and someone mentioned this on a Rotten Tomatoes review, that it's twisty for the sake of being twisty. All the numerology involved feels like a way to flaunt its own intelligence as opposed to a proper form of telling a story. The movie can be confusing, even if you've been complete paying attention from the start. Unlike The Incident, which some people can make the argument for that it was also confusing, I don't feel that this movie is in complete control of its concept and its script. It just comes across as if it's compensating for something and that's never been a good look, at least to me. I also feel that the guy who plays Jon (Raul Arevalo) didn't do a good enough job at making his character into anything more than just an expository device. He's got no real facial expressions throughout the film and, honestly, it makes buying into what he's doing a little difficult, since you never seem to find it in your heart to care about Jon. It's not that the guy is a bad actor, it's just that the performance he gave wasn't what that character needed. It's not that he needed to ham it up either, but he needed to give the character a bit more life. There was some life shown there at the end, but it was a little too late by that point. The whole thing, essentially, boils down to, as I mentioned, reincarnation. Every time someone dies in an incident, it's explicitly stated that the person that dies is the reincarnation of the original killer from 1913 who, a mentioned, killed five people, including himself. It is explained that is some sort of karma, where the killer is paying for the lives he took by living through the same experiences he put his victims through through reincarnation. Jon's journey is to, essentially, close the circle and prevent a ten-year-old from dying. As many flaws as the movie had, I did like that aspect of it. I'm not a superstitious man in the slightest, this has been stated time and again in these reviews that I do, but I still liked that part of the story. It's just a shame that the rest of the movie doesn't match the ending, with its twisty for the sake of it narrative, nonsensical character development and inconsistent lead performances. It definitely has a great idea, I can't deny that, but it's just one that doesn't really come to full fruition since, in my opinion, it's never in complete command of its own concept. Decent enough, to be sure, and I have to give it props for at least attempting to tell an interesting story, but I can't say that this is a good movie. Maybe others will find this to be good, but it fell just short of that for me.
Jesse Ortega
Super Reviewer
The Warning (El aviso) Quotes
There are no approved quotes yet for this movie.