The War Within
(2005)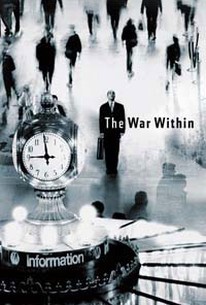 Movie Info
The drama The War Within attempts to put a human face on a suicide bomber. Ayad Akhtar plays Hassan, a student from Pakistan matriculating in Paris. He is arrested for being a possible terrorist, and his brutal handling puts him in the mood for revenge when he eventually gets released. He becomes involved in a terrorist organization and eventually makes his way to the United Sates in order to carry out a bombing plot. When the other members in the plan are arrested, Hassan begins living with an old friend of his who lives a normal American life. Hassan begins to question his desire to go through with the bombing plot when he sees the happiness of his old friend.
Critic Reviews for The War Within
Audience Reviews for The War Within
½
[font=Century Gothic]"The War Within" starts with Hassan(Ayad Akhtar) walking down a street in Paris minding his own business when he is unceremoniously snatched by authorities. He is sent to Pakistan under the practice of extraordinary rendition to be tortured about terrorist activities he knows nothing about.[/font] [font=Century Gothic][/font] [font=Century Gothic]Three years later, Hassan is a changed man. He is smuggled into the United States, as part of a terrorist cell, targeting New York City landmarks. Hassan is assigned Grand Central Station.[/font] [font=Century Gothic][/font] [font=Century Gothic][/font] [font=Century Gothic]"The War Within" is a quietly chilling, subtle and stunning movie that takes a disparaging view of the War on Terror while offering no easy answers. Overall, the movie is sympathetic for the vast majority of Muslims who are caught in the middle between the government that automatically suspects them of violent activities and terrorists who pervert their religion for their own nefarious goals. Remember, the surest way to radicalize somebody is to arrest, torture and then place them in the company of fanatics. [/font]
The War Within Quotes
There are no approved quotes yet for this movie.