The Walker
(2007)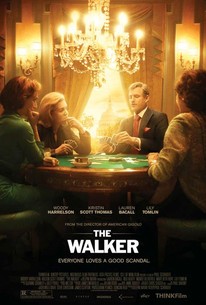 TOMATOMETER
AUDIENCE SCORE
Critic Consensus: Despite a strong performance from Woody Harrelson, The Walker can be slow and dull at times, detracting from the talented cast.
Movie Info
Carter Page is a well-heeled and popular socialite who serves as confidant, companion, and card partner to some of the capitol's leading ladies. These pampered women are married to the most powerful men in America, and when their husbands are too busy running the country to attend to their wives, they turn to their "gay best friend," Carter, for warmth, wit and wisdom. Carter's loyalty is tested when his dearest friend finds herself on the brink of a scandal that could destroy her reputation and her husband's career. Offering to cover for her, Carter suppresses incriminating evidence, only to find himself the chief suspect in a criminal investigation. Suddenly, this well-connected man-about-town is a pariah, hounded by the police and forced to find the true culprit and clear his name. More importantly, he must re-examine whether it is important to be accepted by a society based on betrayal, hypocrisy, and corruption.
News & Interviews for The Walker
Critic Reviews for The Walker
Audience Reviews for The Walker
½
Carter Page III: I have had some illusions shattered... I thought we weren't an aggressor nation. I thought there was a separation between church and state. Hell, I even thought that the people elected the president.  "Everyone loves a good scandal" The Walker is an example of great performances in search of a good movie. The whole time I was watching this film, I was thinking, this should be an amazing movie. Woody Harrelson and Kristin Scott Thomas both gave extraordinary performances. The film looked great and had an appeal to it that should have made me love it. But it never managed to suck me in. I was left feeling less than satisfied by the way Schrader managed the tempo and scandal. Schrader had some interesting ideas, but never managed to execute them to their fullest potential. Woody Harrelson plays Carter Page III, a gay escort who spends time with the rich women of D.C. His job is to keep them company, sometimes by playing cards with them. He drives them around , tells them how good they look, and talks to them about everything. One day he is driving Lynn Lockner  to where her lover is awaiting her. When she arrives she comes back out telling Carter that the man is dead. Carter decides to cover for her since this would ruin her and her husband's life, and tells the police that he found the man. This puts him as suspect number one, and he soon finds himself knee deep in a scandal. I preferred the last thirty minutes of the film to the first hour, fifteen. The first part of the movie is so dull and at times had me restless. The last part did start to pull me in again, but by that time it was really too late. The Walker had a lot potential, and I did enjoy the performances and the sophisticated sets, but Schrader could have had a masterpiece. Instead it's just a decent little dramatic scandal.
Melvin White
Super Reviewer
The last time writer/director Paul Schrader delved into the seedy world of male escorts was in 1980 with "American Gigolo". That film gained notoriety, not for it's quality or exemplary filmmaking but for being the first time on screen that there was full frontal male nudity in a mainstream film. Thankfully we are spared such indescretion this time, but it still doesn't save the film. Carter Page III (Woody Harrelson) is an escort for some of Washington, D.C.'s finest society women. He accompanies them to several high-class events whenever they are in need of male company. When the husband of one of his lady friends appears murdered, Carter gets caught up in a scandal-tinged murder mystery. Paul Schrader is normally quite reliable but I wish I had remembered that the aforementioned "American Gigolo" was a stinker before I'd sat down to this equally poor retread and saved myself the time. And quite a bit of time that would have been. It would have amounted to 1hour 47mins, which going by the pace of this film, would have seemed as if I'd saved more. By god this film takes a long time going nowhere. Harrelson puts in a decent attempt as the gay socialite with southern drawl but ultimately he's miscast. He maintains your interest for a short time and from the beginning the film looks very promising. However, it soon becomes very dull, very quickly, and there's nothing Harrelson or the impressive supporting cast of fabulous actresses can do about it. Murder mysteries normally have anticipation, suspense, and intrigue. This has neither, and going by the mis-judged tempo of the film, "The Crawler" would have been a better choice of title.
Mark Walker
Super Reviewer
½
A wonderful performance by Woody Harrelson and some crisp dialogue mask a rather weak who-done-it. As it takes place in the nation's capital, somehow I was not surprised that the rat's all abandoned the sinking ship as soon as they sniffed an iceberg. This certainly was no revelation, and to hinge a film on that tired premiss was unfortunate. This film would have faired much better as a charactor study of a gay man who stands outside beltway society on one hand, and yet wallows in it on the other; who still somehow believes in some basic sense of honor and responsibility. He sticks by one of his "girls", even though he believes her to be guilty, and even though by doing so he places himself squarly in the DA's sights. The irony of course is that the "old money" powerbrokers (of which he once was a part, until he was outed) have already shown their true colors by condemning his sexual actions in the first place. An interesting film and a social commentary wrapped inside a standard potboiler that never quite comes to a boil.
paul sandberg
Super Reviewer
The Walker Quotes
There are no approved quotes yet for this movie.