The Valet
(2007)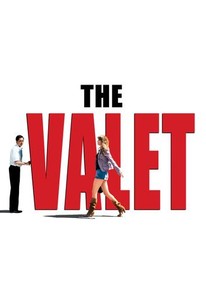 Movie Info
When billionaire Pierre Levasseur is snapped by a papparazzo with Elena, his dazzling, supermodel mistress, he tries to avoid a catastrophic divorce by coming up with an outrageous lie. He asserts to his wife that a third person, a passerby, François Pignon, who is also on the photograph, was in fact with Elena. She's Pignon's girlfriend not his. Pignon is a parking valet. He's a very ordinary fellow. Levasseur, to back up his lie, has to convince the overly beautiful Elena to go live with Pignon. Elena, shacked up with Pignon, is a bird of paradise in an apartment in the sticks. It's also a load of comic situations for The Valet.
News & Interviews for The Valet
Critic Reviews for The Valet
Audience Reviews for The Valet
½
This is a quick, and airy film. The plot -a bumbling blockhead pays a valet to shack up with his mistress in order to fool his wife, while at the same time trying to convince the mistress he is getting divorced, This premise doesn't leave much to the imagination, but the dialogue is lively. The supporting characters, including a doctor who coerces medical care from his patients, adds a real spark to what would otherwise be a conventional story. Cute, and entertaining.
Cynthia S.
Super Reviewer
The cast is great, Paris is beautiful, the story is ammusing (if not trite at times). Gad Elmaleh is (once again) absolutely charming as Pignon, the down on his (romantic) luck valet and Kristen Scott Thomas is great as the wife of the philandering millionaire (Daniel Auteuil). Unfortunatley things just never seem to develope fully. I was almost expecting (when the screen went black) to see a "Insert Disc 2" message pop up, but instead the credits started rolling! We even scrolled through all of the credits, in the hopes that they would have one of those little "epilogue" clips that some films tag on to the end. But nothing.
½
The Valet is such a funny foreign film. Kristin Scott Thomas whom was great in The English Patient co-stars in this comedy. A valet is caught in a taploid magazine beside a famous model whom is having an affair with a very wealthy man that is also in the picture. In order to not get divorced the model and valet must con there way to prove they are a happy couple whom live together...it is too funny.
Mason Williams
Super Reviewer
The Valet Quotes
There are no approved quotes yet for this movie.