The Truth About Emanuel
(2014)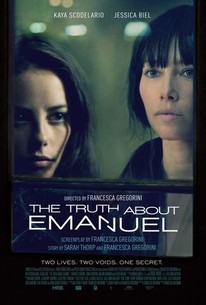 The Truth About Emanuel Photos
Movie Info
Emanuel (Kaya Scodelario), a troubled girl, becomes preoccupied with her mysterious, new neighbor (Jessica Biel), who bears a striking resemblance to her dead mother. In offering to babysit her newborn, Emanuel unwittingly enters a fragile, fictional world, of which she becomes the gatekeeper. (C) Tribeca
News & Interviews for The Truth About Emanuel
Critic Reviews for The Truth About Emanuel
Audience Reviews for The Truth About Emanuel
½
I don't know why, but this felt like a Lifetime made-for-TV movie to me. I went to this film's Wikipedia page expecting for it to have actually been commissioned as a TV movie. And I don't mean that in a derisive manner, the last Lifetime-esque TV movie I saw, which was actually a Lifetime TV movie, Big Driver, wasn't a half-bad movie. And this is the same way, this ends up being average at best. I don't know, while there's certain parts of the film that I liked, like Emanuel and Linda complimenting each other, Linda being the mother that Emanuel never got to know and Emanuel sort of acting as Linda's daughter after her own baby died in an accident. But there's also a part of me that feels that the movie is a little shallow and it stretches scenes longer than they technically should've gone. I get the whole Linda using a baby doll as a coping mechanism, but how much mileage can you really get out of that? Like they literally went over an hour with this and you just wanted them to get the point by, like, the 45 minute mark. Sadly, however, there's still 30 more minutes until they actually do something about it. And I sort of get why did what they did. Emanuel kept coming over to take care of Linda's 'baby' because Em loved spending time with her. If she bursts her bubble and tells Linda that it's actually a doll, then Em wouldn't be needed around. I get that. But it just takes way too long to get to the point. And when it does, it's not really satisfying. They're only confirming what you've known all along, pretty much. The character of Linda has some intrigue until you find out that she's pretending that the doll is her real daughter and that's about it. After that, you pretty much fill in the blanks on you're own and, really, 99.9% of you will hit the nail right on the head with your guesses. So there's nothing wrong with predicting how everything's gonna play out and being right, but the problem comes in the fact that the movie just really isn't that enjoyable to watch. Like I said, it's average at best, but I just didn't enjoy watching this very much. The character of Emanuel, to me, just isn't that well-written and she comes across more as unlikable as opposed to being just another troubled teen. Those two are really close to each other and it's really easy to think you're writing a troubled character when you really are writing an unlikable one. They're definitely gonna share a lot of the same traits, but, somehow, I just didn't like the character. And this is the character itself, because I thought Kaya Scodelario did a really good job in this movie. Jessica Biel, as well, did a fantastic job here, but I didn't find the movie to be that emotionally satisfying. This, essentially, builds to the moment where both Linda and Emanuel learn to let go and attempt to move on. It's supposed to be this touching, emotional moment, but it just didn't do anything for me. I have no idea why. Maybe it's cause the characters themselves don't feel fully formed, or because they waited so long to get to this point, but I felt nothing. Shame too because, while a bit hokey, there's something that you could've done with these two grieving characters and how they help each other live their lives and move on. But it just didn't reach a great level. Hell, it didn't even reach a good one. Disappointing, since the acting from Kaya and Jessica is so strong. Maybe the events surrounding them are a little dramatic, but the acting is still really strong. The writing is a little bit underwhelming, but not terrible, it's just shallow and dramatically hollow. There's a certain disconnect, since the review makes this movie seem worse than it is. It really is an average movie, but there's average movies that I've enjoyed. This isn't one of them, so, therefore, I can't exactly recommend this. Strong acting, nothing else.
Jesse Ortega
Super Reviewer
Reading the bad reviews on RT I wonder why people didn't like drama thriller indie written, directed and produced by Francesca Gregorini. The film stars Jessica Biel, Kaya Scodelario, Alfred Molina, Jimmi Simpson, Aneurin Barnard and Frances O'Connor. It premiered at the Sundance Film Festival on January 18, 2013. The story of Emanuel (Scodelario), is a story of a troubled girl, who becomes preoccupied with her mysterious, new neighbor (Biel), who bears a striking resemblance to her dead mother. In offering to babysit her newborn, Emanuel unwittingly enters a fragile, fictional world, of which she becomes the doorkeeper. Interesting story about salvation and redemption. This tale unfolds and unravels in secrets, creating blind-spots that will at best keep us from moving forward, at worst derail us completely. I enjoyed it as a choreographed piece between sorrow and fantasy; a haunting dance between its two main characters, Linda and Emanuel. When we have a director raised in Rome, Los Angeles and the English countryside, there is a feel Francesca Gregorini brings in this movie... a worldly, passionate and unique sensibility. Character driven movie will take you to the end creating mysteries, some of them unnecessary for the plot, but visually stunning! Watchable movie which will cause some reaction with the viewers on the emotional level! It seems that I liked it more than the others, but there is nothing to be ashamed - I found it well made... just enough well made for the 60%.
½
A troubled teenage girl becomes obsessed with the single mom who moves in next door, who has secrets of her own. A bit slow and heavy-handed at times, but generally an effective female-centered psychodrama about maternal love.
The Truth About Emanuel Quotes
There are no approved quotes yet for this movie.