The Thing with Two Heads
(1972)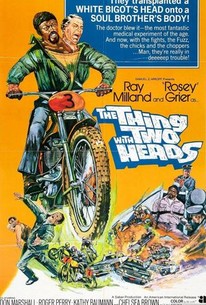 The Thing with Two Heads Photos
Movie Info
In this sci-fi horror movie with comedic elements, a racist transplant surgeon (Ray Milland) learns that he's dying of cancer. He's recently performed some revolutionary experiments with a gorilla (special effects guru Rick Baker), by attaching a second head to the gorilla's body and removing the first one after the second has grown firmly into place. Now he wants to replicate the experiment with a human body, by grafting his head onto another person's frame. This way, he reasons, he'll be able to continue his medical and scientific work unabated. When he comes to after surgery, however, he's horrified to find out that his head has been stitched onto the body (and next to the head) of a large black man (former football player Roosevelt 'Rosey' Grier) due for a murder sentence. Enormous complications then ensue, as the two headed person runs about, with the convict intent on proving his innocence to the cops, and the scientist intent on having the convict's head removed. Director Frost formerly worked on stag films such as 1964's Love is a Four-Letter Word.
Critic Reviews for The Thing with Two Heads
All Critics (8) | Top Critics (1) | Fresh (0) | Rotten (8)
Within hours... the two-headed escapee is on a motorcycle and being chased by no less than 14 police cars. Every one of them is destroyed during the chase, a process that takes so long that seven, or even five, squad cars might have been enough.

Since the picture never takes itself seriously (I mean, how could it?), it often falls into the so-bad-it's-good-to-watch territory, with some intentionally amusing dialogue keeping it lively.
De tão ruim, torna-se divertido. Com o perdão do trocadilho: onde Milland estava com a cabeça quando aceitou participar desta coisa?
April 11, 2005 | Rating: 1/5
Audience Reviews for The Thing with Two Heads
½
This film is best known as a B-movie, low budget, exploitation film from the 1970's. More importantly it's blaxpoitation, merging with what I suppose is science fiction. The main reason it's quite well known is because Ray Milland (an Oscar winner for God's sake!) plays a racist doctor who is dying and must have his head transplanted onto another body to survive. He decides to do so but is tricked into having to share a body with a black convict who opts out of the death penalty for this procedure. The entire film pains itself on showing the convict as a man convicted though innocent, a family man, a man who values human life and charity above all else, opting to sacrifice his life with honor. The film never gives insight into Milland's stereotypes, no description to his general misconceptions about race or relations in his life. He is just shown as a bad man. This film would rise considerably if their personalities had been better developed, their motivations given a bit more value. Milland is simply evil and egotistical but there isn't any reason for it, while Roosevelt Grier is only trying to clear his name, which is never seen to fruition. Much of it tried to also be funny, in the way that I can only describe as "dainty" comedies do. Milland disgustingly overacts throughout, while Grier really does come off as repentant and loving person, and the most human character of anyone. The cops are bumbling, the other doctors are cold, and the one black doctor who Milland is prejudiced against stays upright and stiff throughout, as if he has something to prove to the audience. The effects weren't very impressive, but it was one of the first efforts of future Oscar winning makeup artist Kenny Baker, and has been included in many documentaries on exploitative, sci-fi, and scary films. The ending was the only unsatisfactory part for me, because it was so abrupt and no one learned anything, as if the racism issue itself was only a mindless plot device. Still, it was campy enough to be a true thrill for anyone with a taste for trash.
Spencer S.
Super Reviewer
½
The epitome of corny, campy, cheesy or whatever you want to call it, it's horrible. The story is stupid and the ending is pointless as is most of the movie. The acting and dialogue are bad as well.
This is the second movie in the MGM Midnite Movies Double Pack, and of the two this one is the best, matter of fact its a riot. Put out by American International and Directed by Lee Frost the same Director and made within a year of the movie The Incredible Two Headed Transplant. Of the two this one is best. Making movies in the 1970 time frame was much different today, the reference to blacks in this film wouldn't stand a chance among politically correct crowd today. A dieing doctor who is working on transplanting the head and brain on a bad body to a good body is dying and wants to have his head transplanted, he doesn't like blacks and will not let them work for him in medical field, well his staff transplants his head on a black mans body, when he comes to it makes for a funny and enjoyable film. 4 stars for this one.
Bruce Bruce
Super Reviewer
The Thing with Two Heads Quotes
There are no approved quotes yet for this movie.