The Thief of Bagdad
(1940)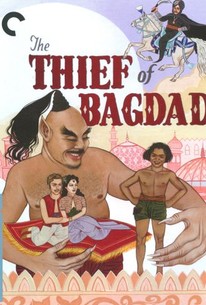 The Thief of Bagdad Photos
Movie Info
In ancient Bagdad, Abu, a good-natured young thief (Sabu), befriends the deposed king Ahmad (John Justin) as both are imprisoned in the palace dungeon, awaiting execution under orders from the evil vizier Jaffar (Conrad Veidt), who has seized the throne. But they escape and make their way to Basra, where Ahmad, now living as a beggar, meets and falls in love with the Princess (June Duprez), who has been betrothed by her father the Sultan (Miles Malleson, who also wrote the screenplay) to Jaffar. Their fight for the love of the Princess triggers a series of adventures for the young Abu that brings him halfway around the world and into mystical realms with help from a towering genie (Rex Ingram), brushing up against the gods and transforming the little thief into a hero in the process. Along the way, we encounter a wide array of characters, some of them charming, such as the gentle Old King (Morton Selten), and some sinister, such as the devious Halima (Mary Morris), plus a range of color and lushly designed sets and set pieces (and special effects) that still dazzle the eye seven decades later, even in the wake of various remakes (which include Disney Studios' Aladdin). And it all leads to an amazing and suspenseful ride on a magic carpet, and a race against time to save the king and his beloved. ~ Bruce Eder, Rovi
News & Interviews for The Thief of Bagdad
Critic Reviews for The Thief of Bagdad
Audience Reviews for The Thief of Bagdad
Colorful hooey has committed performances from the cast who remain straight faced amid preposterous situations. However you know that going in so just sit back and enjoy, with kids preferably, the beautiful technicolor, costumes and actors.
Very cute classic with great special effects for movie made in 40`s
It's only a matter of time before hollywood does a big budget, computerized-effects version of this movie starring Shia LeBouf or Zach Effron as Abu. In this, the 1940 version of the film, we have Sabu in the title role that Zach Effron will one day play. Abu befriends Ahmad (the very anglo John Justin), the ruler of Bagdad who is ousted and thrown in prison by the wicked Jaffar (Conrad Veidt), all for the love of the lovely Princess (June Duprez). What follows is a fantasy fairytale filled with green screen giant genies, spiders and squid. There's also flying carpets and flying toy horses, and a crossbow that always shoots whoever you're aiming at right between the eyes. In other words, it's a movie every 8-year old boy should love (I wish I had seen it when I was eight).
Devon Bott
Super Reviewer
The Thief of Bagdad Quotes
There are no approved quotes yet for this movie.