The Tenants
(2006)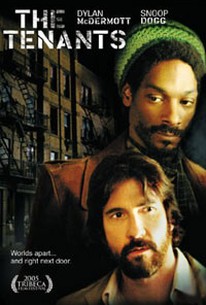 Movie Info
Harry Lesser, a Jewish-American writer who is the last remaining tenant in an abandoned New York apartment building, is desperately trying to finish his novel. One day he discovers he is not alone. African-American writer, Willie Spearmint is using the space to come to terms with his 'violent and socially-oppressed' past through his work. The two men come to an uneasy peace, living in the building and working with and against each other as they pursue finishing their novels. As distrust grows between them, the uneasy friendship falls to the wayside, replaced by jealousy, rage and violence.
Critic Reviews for The Tenants
Audience Reviews for The Tenants
Bob Stinson
Super Reviewer
½
[font=Century Gothic]In "The Tenants", it is 1972 when Harry Lesser(Dylan McDermott) is writing his third novel in a tenement in Brooklyn where he is the sole remaining tenant, hoping to regain the form of his successful first novel, when he hears another typewriter down the hall. There, he discovers Willie Spearmint(Snoop Dogg) writing a book of his own. The two become friends and Willie asks Harry to read his manuscript and tell him what he thinks.[/font] [font=Century Gothic][/font] [font=Century Gothic]"The Tenants" nails the solitary obsessiveness of writers perfectly but in other areas the movie is less than a success, especially in missing a prime opportunity to explore race relations. Willie is by far the more interesting character, with experiences that are only hinted at, whereas Lesser is the more polished writer. In short, what could have made for an intriguing movie falls dramatically flat, and a bland Dylan McDermott does not help.[/font]
The Tenants Quotes
There are no approved quotes yet for this movie.