The Tale of the Princess Kaguya
(2014)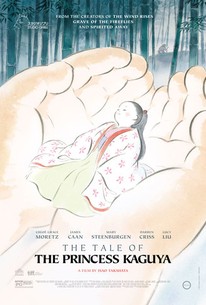 TOMATOMETER
AUDIENCE SCORE
Critic Consensus: Boasting narrative depth, frank honesty, and exquisite visual beauty, The Tale of the Princess Kaguya is a modern animated treasure with timeless appeal.
The Tale of the Princess Kaguya Photos
Movie Info
Legendary Studio Ghibli cofounder Isao Takahata (Grave of the Fireflies, Pom Poko) revisits Japan's most famous folktale in this gorgeous, hand-drawn masterwork, decades in the making. Found inside a shining stalk of bamboo by an old bamboo cutter (James Caan) and his wife (Mary Steenburgen), a tiny girl grows rapidly into an exquisite young lady (Chloë Grace Moretz). The mysterious young princess enthralls all who encounter her - but ultimately she must confront her fate, the punishment for her crime. From the studio that brought you Spirited Away, My Neighbor Totoro, and The Wind Rises comes a powerful and sweeping epic that redefines the limits of animated storytelling and marks a triumphant highpoint within an extraordinary career in filmmaking for director Isao Takahata. (C) GKIDS
News & Interviews for The Tale of the Princess Kaguya
Critic Reviews for The Tale of the Princess Kaguya
Audience Reviews for The Tale of the Princess Kaguya
½
The Tale of the Princess Kaguya is an absolute stunning piece of art. Let's just take a moment to appreciate how beautiful this film is, it is without a doubt a work of art. Every paint stroke, every detail and every frame by frame animation is perfection. I've never seen such exquisite visionary qualities in a film before. Every frame is colourful, bright and absolutely delightful to admire. Not to mention several scenes have multiple layers of animation embedded within them, masterful. I'm just...in awe of how amazing the animation was, I really am. Trust it to be Studio Ghibli, they really are masters of the animation genre. This film is a re-telling of the famous Japanese folk tale "The Tale of the Bamboo Cutter" where said bamboo cutter comes across a glowing stalk which is revealed to contain a princess. They raise her as she grows rapidly and, with the help of a divine presence, believe she should be living in the lifestyle of nobility. There is so much to analyse, so much to take in that I just don't have enough words to detail every theme that is explored. The story is one of happiness. The contrasting lifestyles of rural village people to rich noblemen. But is anyone actually truly happy? Princess Kaguya wishes to live back in the mountains whereas her old friends are jealous of her new luxurious residence. Within this personal conflict is the never ending battle of seeking true happiness which conclusively she does not find (much like everyone else in life). The bamboo cutter gave the princess a life in his own image, a life that he wished he desired all along. While he may have been happy, his daughter was not. He was blinded by the materialistic aspirations that he yearned for. The representation of the traditional Japanese culture was wonderful and really captured the authenticity of the folk tale. I do have to warn you though, don't let the cutesy animation fool you. I do not recommend this for children. It's a long runtime, there are heavy themes and I don't think they will fully appreciate it.
Luke Andrews
Super Reviewer
"The Tale of the Princess Kaguya" is a lovely story about a found princess that grows quickly, deals with life's hardships, downfalls, and the realistically drawn imagery really makes you buy into this story. Well-written, brilliantly-animated (as always by Studio Ghibli), it is definitely worth it's Academy Awards recognition. It may not be the best film to come from this studio, but ever since the mastermind of the studio passed, it will be a challenge to live up to. I really enjoyed watching this film, and by the end I was actually tearing up, because the maturity level of the characters and symbolism that was being shown, really stood out. "The Tale of the Princess Kaguya" is the definition of an achievement in my opinion and deserves to be seen by many around the world. This is a very original film, however, it is a tad overlong and slowly paced out, making for a less pleasant experience. It felt like it was trying to take it's beautiful story and stretch it to become a Blockbuster film, which felt very out of left field for the studio. In the end, this is a really good film.
That the title of the original folktale places its importance on the bamboo cutter is symptomatic of those ungrateful times for women like our tragic heroine, and this is a gorgeous-looking, sad story whose only flaw is a frustrating suggestion that its most beautiful scene could be a dream.
Carlos Magalhães
Super Reviewer
The Tale of the Princess Kaguya Quotes
There are no approved quotes yet for this movie.